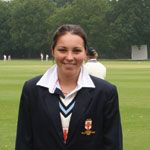 Deadly Vibe Issue 106, December 2005
Aye Aye, Captain!
This young cricketing dynamo is hitting "˜em for six!
When we last heard from Samantha Hinton she was a 15-year-old burgeoning cricket star with big plans to work hard towards her ultimate dream " to play for Australia.
Two years later and this young all-rounder from Wellington High School in NSW has achieved an incredible amount. This year she was selected for the under 17s NSW women's cricket team as vice-captain, helping to guide her team to victory in the Australian championships. She also played for the under 17s and the under 19s Country women's team in the Country vs. City tournament, with her team winning in both age groups.
She then represented the NSW Western Region, and from here she was selected to tour the United Kingdom and Ireland through July this year with the NSW Combined High Schools cricket team. At the pre-tour dinner, Samantha had the honour of being named captain of the team.
"We played against Scotland, Wales, England and Ireland," Samantha says, "and we won six and only lost three.
"Ireland was the toughest team " they had some international champions on their side."
Samantha plans to continue working towards that ultimate goal, and in the meantime will continue honing her skills at regional and state levels. She will also be playing in the Imparja Cup annual National Indigenous Cricket Carnival next February.
(story date December 1, 2005 end)