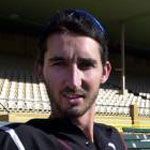 OCTYPE HTML PUBLIC "-//W3C//DTD HTML 4.0 Transitional//EN"> Fast-bowling sensation Jason Gillespie has been putting the wind up batsmen everywhere since arriving on the international cricket stage five years ago. He talks to Deadly Vibe about realising his dreams, weathering his injuries, and being named the 2001 Aboriginal Sportsman of the Year.
When Jason Gillespie made his Test debut against the West Indies in 1996/97 as a 21 year old, the fast bowler quickly proved his was a name to commit to memory. Bowling 23 overs, the young South Australian managed five maidens and took two wickets, allowing the batsmen to score only 62 runs in the process. Howzat for a promising start to a career!
"You have this expectation in your head of what it will be like if you get selected to play for Australia," says Jason, now 26. "When that day finally comes you're so focused on giving your best performance that it doesn't really hit you until it's all over. It wasn't until much later, when I was at home relaxing on the couch, that it began to sink in and I just went, "˜Oh man, that was awesome!'"
Born in Sydney in 1975, Jason " or as his team-mates call him, "Dizzy", after the jazz trumpeter Dizzy Gillespie " started kicking a soccer ball around at the age of four. A couple of years later he picked up a shiny red cricket ball and, at age seven, joined a cricket club. When his family moved to South Australia, Jason would often head down to Adelaide Oval to check out the Sheffield Shield. Idolising home-grown bowlers like Dennis Lillee and Rodney Hogg, as well as fast-paced West Indian legends like Courtney Walsh and Curtly Ambrose, young Jason set his sights on one day donning the baggy greens for Australia.
Now that he's achieved that goal, there are times when it all seems a bit surreal. Indeed, being thrust into the international spotlight has made the tall man shy. His player profile claims he was "incredibly shy as a kid", but it appears the shyness has actually been brought on by all that public attention.
"I find it really hard to comprehend people recognising me on the street " being approached all the time and the media following my every move, especially when we're on tour," he says. "I'm not saying that I was a real extrovert at school or anything, but once I started to play at an international level and had a bit of exposure, it made me really self-conscious!"
If Jason feels exposed playing on home soil, imagine how he must feel playing in countries like India. Needless to say, cricket is the national sport there and the public are, to put it mildly, passionate about the game and its players. Fans know every intimate detail about them, right down to their stats in State competitions back home. Filled with a mixture of flattery and fear, Jason has had to learn how to deal with being mobbed by fans.
"If you do something stupid like leave your hotel by yourself, then you'll end up with an entourage. Fortunately about 99.9 per cent of these people just want to talk to you about your technique or performance. But it's really nerve-racking and you can't please everyone all the time, so there will always be someone who wants to hurl abuse. You just have to take it in your stride."

While his powerful, aggressive bowling style has had commentators waxing lyrical, Jason is humble about his own enviable record to date, emphasising team effort over and above individual performance. Indeed, some of his fondest memories are of debriefing with team members in the dressing room after taking the Ashes or securing the Frank Worrell Trophy, singing the team song and praising each other's achievements.
For all its ups, Jason's career has also had a few downs. Principally, he's been plagued with serious injury " stress fractures in his back, knees and wrist; and, most memorably, his on-field collision with captain Steve Waugh in Sri Lanka, where he broke a leg and a wrist. But although his injuries have made him a spectator on occasion, Jason refuses to allow such setbacks to faze him.
"You just have to accept the injuries and concentrate on proper recovery and recuperation. One of the hardest things about playing sport is putting up with injuries, and with the standard of cricket getting better and better, it does mean you put more pressure on your body. But I stay pretty fit and just do the best I can."
Aside from the sheer pace, another vital element in Jason's bowling technique is intimidation. Unnerve a batsman and it won't be long before they lob a few silly hits or lose concentration, thereby making it easier for the bowler to target his particular weakness and splinter the stumps.
"I think every bowler " fast, medium and slow paced " uses intimidation," says Jason. "Basically what you're trying to do is unsettle the batsman, and intimidation is a big part of that. At the same time batsmen are trying to unnerve the bowler all the time. Most people think of cricket as really gentle, which it is on some level. But the stuff that goes on on the field is all a part of trying to out-psych each other."
Jason's pace bowling and all-round ability have garnered him plenty of accolades. One of his proudest achievements to date was being named Sportsman of the Year at last year's 8th National Aboriginal & Torres Strait Islander Sports Awards. Humble as always, Jason was completely shocked upon hearing the news.
"You're not going to believe this but I didn't actually find out until after the announcement, because I was touring and I didn't have my mobile switched on. When I heard the news I was blown away " I mean there is so much talent out there! It's something I am immensely proud of."
Another source of pride is his seven-year-old daughter, Sapphire, whose arrival in his life at a comparatively young age motivated him to succeed even more. However, we probably won't be seeing his daughter line up to represent Australia in the near future, as her interests lie more towards Barbie and bikes.
"She's a great kid and a real source of inspiration for me," he says with evident fondness. "She's a bit too young to fully comprehend what it is that I'm doing, but she gets really excited when she sees me on television or in the paper!"
Jason also made headlines last year when he assumed the role of off-field captain for the ATSIC Chairman's XI in their historic match against the Prime Minister's XI (another niggling injury meant he had to lead from the sidelines). Along with the likes of Choc Mundine and Nova Peris, his team comprised a raft of nascent Indigenous cricketing talent. And while he was disappointed at not having the green green grass of Manuka Oval under his feet for the duration of the match, he was overjoyed by his team's form and eventual triumph.
"It was such a great day and everyone was so serious," laughs Jason. "Choc just went out there smashing the balls! What made the day even more impressive was seeing some of the up-and-coming talent like Timothy Dann [from Western Australia] and Kevin Thomas [from South Australia]."
 n the past few years there has been a push to try and get more Indigenous people involved in cricket. Jason understands many of the hurdles that need to be overcome to make cricket one's career. He points to the fact that there are so few teams at any level in comparison to the likes of AFL, NRL and rugby union. Duration is also a barrier for many people, with games taking a whole day and Tests lasting from three to five days. But as with any sport, determination is one of the key factors to success.
An avid reader and self-confessed "quiet guy", Jason uses his downtime to recuperate, relax and maintain peak physical and psychological condition. As with any sport, an individual's ability to perform well is contingent on adequate preparation before the game. For Jason, this means getting a decent sleep, focusing on the job at hand and, most importantly, believing in his abilities.
He must be doing something right. He's just been selected as part of the Australian Test squad to tour South Africa this month, and you can be sure he'll have the batters quaking at the pitch.
When asked what he would be doing if he weren't playing cricket, Jason draws a complete blank.
"All I've ever set myself to do was to become a professional cricketer. I've talked about it with the rest of the team and we all acknowledge we're the luckiest people in the world " we get paid to do something we really love and represent our country at the same time. How do you top that?"