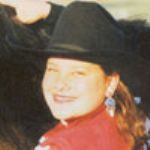 With the help of her twin sister Jen, her mother Anne, and members of the local community, Rebecca organised the inaugural Gympie Gold Rush Rodeo on Friday, 18 October 2002.
"It turned out really, really well," says the motivated 17 year old. "It was excellent " much better than I thought it would be. I didn't think anyone was going to turn up, but about 1,000 people came. The crowd was great and they gave us lots of encouragement and support."
The evening event, which helped to raise money for junior rodeo, took Rebecca weeks to organise. Apart from finding a venue and arranging entertainment (Adrian Ross played didj and Don Bemrose sang the national anthem), much time was spent seeking financial support.
"A lot of local businesses donated money and prizes," she says. "Cherbourg Council donated $500. I think it's good for Gympie to host more rodeos. It means the town gets a bigger name and so more people come and visit. I'd love to do it again next year."
Anne Whitfield says her daughter decided to hold the rodeo because there are presently only two rodeos annually that accept junior competitors.
"It's a bit like the U10 football team competing against the U21s," says Anne. "The juniors compete against the open riders and some do quite well, but it's also good for them to compete against their peers."
Hopefully, when Rebecca organises next year's rodeo she'll get more of a chance to compete. This time round, she was so busy organising it that she hardly got a chance to enter anything.
"I only went in the barrel race and unfortunately I knocked a drum over!" she laughs.
But that's not worrying this talented cowgirl who's well and truly riding high after a year of fantastic achievements. Apart from organising the rodeo, which was a "˜full points' NRA-affiliated competition, she is making a name for herself in a number of NRA time events.
Currently the only junior in the All-Round Cowgirl standings, Rebecca is also leading the charge for the title of NRA Rodeo Princess. She is one of only two juniors in the Breakaway Roping standings, and the only junior in the Steer Undecorating standings. Clearly, Rebecca knows how to lasso!
"I've won a few trophies and sashes, but my biggest achievement is that in my first year of rodeo I've made it into All-Round Cowgirl," she says.
At the moment, Rebecca is preparing for the finals, to be held in Caboolture this month, where she's hoping to become the first Aboriginal girl to win the NRA Princess Competition.
"I reckon I've got just as good a shot as everyone else. I'm also competing for Rookie of the Year, which is when you're in your first or second year of rodeo and competing in the open section."
While she's quietly confident, Rebecca knows she'll be facing some stiff competition from, among others, her twin sister and her mum!
"They're both competing in the Steer Undecorating finals. Because we're twins, Jen and I compete against each other rather than everyone else. I usually beat Jen, but she beats me in barrel races. Mum's only ever beaten us once " actually, it makes us feel good when she does that!"
One thing's for sure, when the Whitfield women come to town for the rodeo, there's some serious riding to be done. And being cowgirls isn't all they have in common " Anne shares her birthday with her twin daughters. Maybe that's why they all have a passion for rodeo!
"Rodeo is a great family sport," says Anne. "It teaches discipline, team spirit and responsibility. Through rodeo we've met people we will probably stay friends with for life. There doesn't seem to be any racial discrimination in rodeo. We're treated the same as anyone else and there are quite a few Murri people competing."
When she's not perfecting her roping technique, Rebecca works as a trainee teacher's-aide at Gympie Special School with disabled children.
"I love my job," says Rebecca. "I love coming home each day knowing I've done something good. But rodeo is my first love and I really hope to compete at the Calgary Stampede in Canada one day."
With her go-getting attitude and undeniable talents, it shouldn't be long before Rebecca Whitfield is roping with the best of them in Alberta.