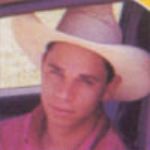 A busted knee hasn't put this young bull rider on the back foot.
At just 22, Damon Metcalf looks set to become the next big thing in bull riding. Starting out at the age of 10, this Nyoongah fulla from Western Australia has gone on to perfect this rough-and-tumble sport, suffering a broken kneecap in the process.
But for an event that is regarded as the most popular and exciting in rodeo, it's a small price to pay. After all, how many people can say they've successfully ridden an angry bull despite the creature doing all in its considerable power to buck them off?
Like most others before him, however, Damon didn't just jump straight on to a bull's back and hang on tight. Rather, he began poddy (young calf) riding and gradually moved up to a full-grown beast.
"I've been riding for about 12 years now," he says. "My father's always been into the rodeo and now he likes to watch me compete."
Damon has already collected numerous West Coast Rodeo Circuit (WCRC) titles, including the poddy calf ride in 1991 and 1992, the steer ride and junior barrels in 1993 and 1994, the steer ride in 1995, junior roper in 1996, and the rookie steer wrestle in 1999 and 2001.
Significantly, he was runner-up in the 2001 open bull ride. Could he take the coveted title this year? Well, no actually. Damon busted his kneecap three months ago during a competition in Queensland, effectively putting him out of competition for 2002.
"The bull threw me 15 feet in the air and I landed on my knee, breaking it in three places," he explains. "I had no idea it was broken, though, and I got back on a bull later that day. So I probably won't ride much this year, because I have to wait for my knee to heel. But I'll get back into it again next year."
And when he does, Damon has his heart set on being a champion bull rider.
"Bull riding is my favourite because it's really good riding with the top blokes. Plus you've got fans out there you don't even know coming up to you. I love that!"
At the moment Damon is living in Raceview, Queensland, working with racehorses. This involves doing track work with the pre-trainers and getting the horses ready for racing.
For those of you wanting to learn the downright-scary art of bull riding, Damon is your man.
"If you want to learn, I can teach you," he says enthusiastically. "I'll show you the proper way to ride, from the basics right through to a professional level. I can help you become a champion."