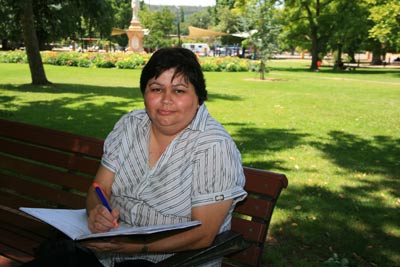 When it comes to preventing Sexually Transmissible Infections (STIs) there should be no taboos – unfortunately they are a fact of life and talking about them, and learning how to 'stay safe' from them can avoid potentially serious health problems down the track.
Aboriginal sexual health officer who works across the NSW's Southern Local Health Network Sharyn Medway, has been conducting information and education outreach for 11 years across the South East and coastal regions of NSW and says talking about STIs and how to prevent them is still a taboo subject at times.
"Generally, people know about STIs but don't want to know about them. We give out condoms and it's difficult for them because then they're known as sexually active. We get round this by dispensing condoms at a discreet level. We find out where they feel safe and usually go to them there," Sharyn says.
"The level of knowledge about STIs is also not complete – they know some things but not all. With Hepatitis C it's not safe to share toothbrushes and razors, for example, but our people will often stay with different families and use these things, without being aware of the risk.
"And sexual health can sometimes become a problem with young people when they don't think it's a problem – they're young and they think they are indestructible. But it's really simple, condoms, needle and syringe safety…the good news is STIs can be prevented."
Sharyn works with young Aboriginals to provide awareness and knowledge of STIs and the importance of 'staying safe'. Over the years she has learnt that the best way to get the message out is to deliver information and education in a positive and fun way.
"Young people don't like to be lectured at and they won't read page after page of information, so we make the education process positive rather than negative. We've held didgeridoo workshops in the past which were really successful. We get cut down didgeridoos for the boys and clap sticks for the girls and they paint them, telling their own stories.
"There's a DVD that accompanies the workshops with didgeridoo lessons and information about bush tucker, so they can take that away and keep learning. We also take a holistic approach to health at the workshops and not only talk about STIs, needle and syringe exchange, but we also look at the social needs. We have drug and alcohol, dental, mental health, doctors, TAFE and Centrelink participating in the workshops.
"The workshops are successful because they are giving something to young Aboriginals, and that is a bit of culture – they get to take something away with them and nearly everyone who has attended still has their didgeridoo and is still playing."
As well as education on STIs, Sharyn also undertakes some pre and post STI counselling because there have been times following diagnosis where suicide has been contemplated. "That's when the referrals to intensive support is brought in," she says.
Sharyn is no stranger to working with mental health issues. In a prior life she worked in mental health for seven years, after gaining her Bachelor of Health Science from Charles Sturt University.
"I left school in Year 8 because I was bullied and teased. Later on I got into the welfare course at TAFE and that's when I began to build on what I wanted to do," Sharyn says.
It was a journey for the Gnunawal women that took her through a mental health traineeship in Queanbeyan (she was one of the first Aboriginals in the state to undertake the traineeship), and then onto tertiary study. But she has found her niche in sexual health. "I must be doing something right to have been at it for 11 years," she says.
In 2011 Sharyn will again hold didgeridoo projects in Eden NSW and she is already working with the youth centre there. She's also looking at increasing Hepatitis C awareness through information delivered with a 'shower pack' of new toothbrushes, razors and soaps.
And she'll be promoting women's health too and the importance of regular paps smears.
"It's important to get the information out there in a way that is relevant. We also need to start talking about prevention of HIV AIDS in our community as across Australia there has been an increase in the wider community and that is a risk to the Aboriginal community."
There'll also be plenty of outreach across her wide area, but it's the part of the job she loves the best. "Outreach is the best part, but the travelling is the worst."