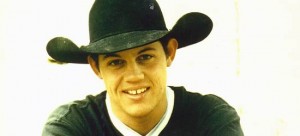 You might not be familiar with saddle-bronc champion Sam Spreadborough, but the Americans and the rest of the world certainly are! Sam's made it to the Wrangler National Finals Rodeo in Las Vegas, Nevada, for the second year running.
The Wrangler Finals are rodeo's world championships. To compete, you need to be in the top 15 in the world. A Kalkadoon man, Sam is proud of his Aboriginal heritage and intends to carry the Aboriginal and the Australian flags at the championships in December. He also wants to wear the feather of the Black Cockatoo in his hat.
He's the only Australian to make the finals and the only Australian to qualify in the top 15 in World Standings – pretty impressive when you consider what it takes to compete overseas in rodeos at the elite level.
Sam was born in Mount Isa where his family owned a cattle station before moving to the cowboy capital of NSW: Tamworth. He grew up around horses and was camp drafting and riding broncos when he was 15 years old. His ambition is to win the Wrangler Finals and be the number-one saddle-bronc rider in the world.
"To get to the top it takes a lot of hard work, practice and sacrifice, but it's all worth it in the end," he says.
"I've been living in America for about 10 years now and have my Green Card (permanent residency). The Wrangler Finals are a pretty big deal over here, and I'd like to be number-one in the world."
While he's focused on his goal, he doesn't have too many other plans for the future. "I only know I want to rodeo," he says.
Home for 29-year-old Sam is Snyder, Texas. It's also the home of the Western Texas College where he spent four years studying after qualifying for a rodeo scholarship. After he completed his scholarship, he competed on the American rodeo circuit.
In 2003 he was named Rookie of the Year in the saddle-bronc class and stayed on in America to compete on the circuit pretty much full-time. He's been hard at it for the last three months.
"It's difficult to fit anything else like work in as I've been rodeoing for the last three months and it takes its toll on me. I'm a bit sore and need to heal up," he says.
Injuries are a part of life for Sam. Last year he broke both bones in his right shin, just another one to add to the list of injuries that go with trying to stay on a horse while it's trying it's hardest to get you off its back. Sometimes you are going to fall, and fall hard.
"I've had a rod inserted into my ankle, surgery on both wrists, broken ribs and collarbones, and then the breaks to two major bones in my right leg. It was definitely the worst injury so far, and I was off for five weeks, but I've been off the circuit for eight months before due to injury – it's all part of the sacrifice you make," he says.
The Wrangler National Finals Rodeo features 10 straight days of the best in rodeo competition, with a total of 120 contestants competing every night in seven events.  Each December, the top 15 contestants (based on the 2011 PRCA World Standings)  in bareback riding, steer wrestling, team roping, tie-down roping, saddle-bronc riding, barrel racing and bull riding qualify to compete at the Wrangler NFR.
"I get 10 eight-second rides, and they will be judged on my actions and the horse's actions. I'd like to win the average and move up in the finals – win the championship if I can."
And does he suffer from nerves before a big ride? That depends on the size of the rodeo.
"I get a bit nervous at something like the Wrangler National Finals Rodeo, but generally on the circuit you get used to it. I know all the horses and I know I've had good preparation," he says.
"It's all about practice, practice, practice. There are no little tricks for staying on the back of a bucking bronco. It's about practice."
Sam's proud parents Bindy and Joy Spreadborough will be flying out to join their son at the Wrangler finals which run from 1 to 10 December.