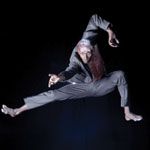 Born to Dance
Deadly Vibe Issue 116 October 2006
One of Bangarra's best takes home the Deadly for Dancer of the Year.
The Deadly for Dancer of the Year is always a close race to call. With so many talented and accomplished Indigenous dancers succeeding both in Australia and overseas, it is always difficult to pick who might be nominated, let alone who will win.
This year the Deadly for Dancer of the Year went to one of Bangarra Dance Theatre's most gifted members " Patrick Thaiday.
Patrick was born in Biloela, Queensland and grew up in Mackay. His parents come from Iama and Erub in the Torres Strait Islands. He believes that his in-built desire to dance is derived from his parents' ancestors who originated from Lifu, South Sea Islands and Jamaica. With a strong cultural background, he learnt traditional dances from an early age.
Patrick's family encouraged him to pursue a career in dance and, in 1999 he moved to Sydney to study at NAISDA, performing both traditional and contemporary dance.
In 2002 he joined Bangarra, where his solo in Walkabout earned him recognition for his talents. In 2004, he won the Ausdance Award for Best Male Dancer for his performance in Unaipon as part of Bangarra's highly successful season of Clan in 2004.
Patrick has been a leading dancer in all of the company's productions since 2002, including the 2006 production of Gathering, Bangarra's successful collaboration with the Australian Ballet. Although he was unable to attend the Deadlys to accept his award, he remains a deserved winner with a very big future ahead of him.