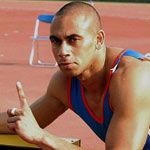 Deadly Vibe Issue 92 October 2004
Patrick Johnson, athletics, 4x100m relay
Once named the world's fastest man, Patrick didn't take up athletics until 1997, but a mere seven months later he competed in the 200 metres at the 1997 IAAF World Track and Field Championships.
Two years later, he reached the 200 metres final at the World University Games in Spain. He then gained selection for the Olympics team at the Sydney Games in 2000, reaching the quarter-finals in both the 100 and 200 metres, as well as the semi-finals of the 4x100m relay.
At the 2002 Commonwealth Games, Patrick ran an impressive anchor leg to win a bronze medal for the Australian 4x100m relay team.
Patrick became the first Australian sprinter to break 10 seconds for 100m, running 9.88 seconds, wind-assisted, in February 2003. The following May in Japan, he ran 100m in 9.93 seconds with a legal wind speed, becoming the 17th fastest man of all time over 100m.
Although Patrick failed to make selection for the 100 metres at this year's Games, he was part of the 4×100 metre relay team, which made it through to the finals.
It's the first time an Australian men's 4×100 metre relay team has made it to an Olympic final, which is an incredible achievement in itself. But they also managed to place sixth and clock the sixth-fastest time by an Australian 4x100m relay team ever.
(Story 1/10/2004 end)
As a 17yr old Patrick was awarded a scholarship to an international boarding college in Moss Vale where the majority of students were from Asia and he eventually learnt to speak Cantonese. He went on to study Human Rights and Asian studies at the Aust. National University.
Raised on a fishing trawler in north Queensland and lived a nomadic lifestyle in his childhood for 17yrs. His Aboriginal mother died in a car crash when Patrick was two and he was raised by his Irish father, Patrick Snr. He started athletics in October '96 at the Australian University Games in Canberra, and won the 100m wearing spikes for the first time. After declining rugby league contracts, he competed and beat the great Carl Lewis and Australia's best in 1997. A budding diplomat who has qualifications in foreign affairs, Patrick is also proficient in a number of languages. Had a great season in 2000 with a competitive rivalry with Matt Shirvington and setting the fastest 100m time (10.10) ever by an Australian on home soil at the Melb Track Classic. (June '00)
Date of Birth: 26 September 1972
Coach/Previous Coach(es): Esa Petola
Scholarship: AIS
Height: 177cm
Weight: 73kg
Marital Status: Single
Occupation: Administration Officer / Athlete
Employer/Level of Education: Department of Foreign Affairs
Club: AIS
Place of Birth and Residence: Cairns, QLD / Canberra
Events and PBs
100 metres 10.10
200 metres 20.54
[SOURCE: Athletics Australia]
OLYMPIC COMPETITION DATES
ATHLETICS
22 SEPTEMBER – 10 OCTOBER 2000
VENUE – OLYMPIC STADIUM
(end)
Deadly Vibe Issue 77
He's spent the past seven years training hard to break the 10-second barrier, yet Patrick Johnson still claims that "I don't think about times". That might be true, but the rest of the world does, and when Patrick ran the blue-ribbon 100m event in the super-quick time of 9.93 seconds in May this year, the rest of the world sat up and took notice.
Not only is Patrick, 30, now the fastest Aboriginal and fastest Australian in history over 100 metres, he is also the fastest man in the world this year. His time ranks as the 17th fastest in history over 100m.
Patrick's record-breaking run was followed by a run of 10.05 seconds a week later, in a race where he was pipped at the finish by 0.01 of a second by the world's fastest man, Tim Montgomery. So for a guy who doesn't think about times,
Patrick is pretty good at posting them.
Patrick believes his narrow loss to Montgomery was even more important than his sub- 10-second run the week before, because "he is the world record holder" and to come that close means that Patrick is now "at the level of the best in the world".
According to Patrick, breaking the 10-second barrier and coming oh-so-close to Montgomery means he is now finally in the place where he belongs. And where is that place? According to Patrick, the latest in a long line of dedicated Indigenous athletics champions, it is "being at the top level of sprinting, but also just having a love of running and pulling it all together".
Born in a speedboat rushing to Cairns Base Hospital in Far North Queensland, Patrick's childhood was anything but the normal upbringing of an athletics superstar.
Patrick's Aboriginal mum came from Yarrabah in Queensland. She was tragically killed in a car accident when Patrick was only 18 months old. Patrick's father, Patrick Snr, was a mackerel trawler captain in the waters around the northeastern tip of Australia and Patrick spent most of his first 17 years trawling the waters between Townsville and the Torres Strait with his dad.
Patrick knows that growing up like he did, on a boat, moving from school to school, meant that it was very important that "I always had my family and always had my friends". It was these people that allowed him to "always keep positive and always drive for the next level".
Patrick believes that his Aboriginal culture also played a part in developing his drive to succeed. "It's very important to have strong cultural ties and know where you are from," he says. "You have to know who your family is, and know your background."
Despite all those years at sea, Patrick has fast legs rather than sea legs and his days of chasing mackerel are well and truly over. Something much more elusive – personal bests – are now his preferred catch of choice.
Patrick didn't jump straight from the deck of the trawler onto the athletics track, and in fact didn't run his first real athletics race until he ran the 100m at the University Games in Canberra in 1996. It wasn't until "a couple of friends from the ANU [Australian National University] suggested to me to have a run" that Patrick, then 26, pulled on a borrowed pair of spikes. What happened next, in Patrick's words, was "to their surprise, and everyone else's, I won it."
Not only did he win the 100m final at the University Games, he did it in a time of 10.47 seconds. This time was fast enough to earn him a scholarship at the Australian Institute of Sport, regardless of the fact that he had barely learned the basics of the sport.
From there followed six years of what Patrick's coach has described as a "systematic dedication to excellence" that has taken Patrick all the way to the top of this global sport. What does a systematic dedication to excellence mean? Patrick believes it is "always keeping positive, having goals and dreams and always sticking to them". He admits there have " been ups and downs" over the past six years, but believes that "always staying positive" has allowed him to come as far as he has.
As well as getting faster by the minute, or by now the millisecond, Patrick has also achieved goals off the athletics track. As well as learning several languages, including Cantonese, and earning a degree in Asian studies and human rights from the ANU, Patrick has also found time to earn a job as a diplomat with the Department of Foreign Affairs and Trade in Canberra. This is all part of Patrick's belief that "you've got to have a balance. You can still train to be a great footballer, a great athlete or a great artist, but you can also do something else". All you have to do is "focus on the right thing at the right time". So Patrick may not think about times, but he sure knows a lot about using time to the best of his advantage.
When asked if he wanted to send a message to all the stars of tomorrow out there who read Deadly Vibe, Patrick jumped at the chance. He told us to tell you to " always believe in yourself and keep positive. You all have the ability in every aspect of your life – you just have to believe in yourself."