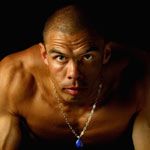 Deadly Vibe Issue 89 July 2004
No hurdle too high
Hunky high hurdler Kyle Vander-Kuyp is training hard in Sweden to make selection for next month's Olympic Games in Athens.
Although Kyle, 33, is Australia's fastest hurdler – his national record for the 110m race stands at 13.29s, which he ran in 1995 – he hasn't yet made the Olympic selection time of 13.55s since the selection period started in June last year. He will be told on July 5 if he has made the team.
The last time Kyle ran 13.55s was in 2001 in Brisbane, but he's fully confident that he will keep getting faster and faster as the Olympics draw near.
From Sweden, where he is staying with friend and former Australian sprinter Paul Henderson, Kyle said he had his "fingers and toes crossed" that he would make the team. "It's going to be my third Olympics, so I really want it with all my heart," he says. Kyle competed at the Atlanta Games in 1996 and again at the Sydney Games in 2000.
"The thought of running for Australia and wearing the green and gold gives me motivation and drive every day," Kyle says. "I love the feeling of competing in front of a big crowd.
"The training can be hard and things can go wrong, but if you can be patient it can all be worth it. The smile you have when you walk out with the country's colours on is worth gold – it's a feeling that stays with you for life."
Kyle has also learnt to deal with nerves in the lead-up to big events such as the Olympics. "You actually start to enjoy the feeling of nerves coming on," he explains. "I know when I get nervous it means I really care about what I'm about to do – I treat it like a friend and welcome the feeling."
It's no secret that this will be the last Olympic Games that Kyle will compete in – in fact, if all goes according to plan, he will bow out of professional athletics at the 2006 Commonwealth Games in Melbourne.
He plans to spend time next year thinking about his future, but he has talked about perhaps becoming a primary school teacher. You only have to see him with children – like when he takes part in the Vibe 3on3 events around Australia as a role model – to realise how important they are to him.
"I am going to keep doing my work in the communities and with kids, and will also do a lot of planning in 2005 so when the time comes I can make the transition well," he says. "Whatever I do, I want to aim high just like I did with my athletic career."
After he hangs up his running shoes, the one-time Cleo Bachelor of the Year also plans to start his own family – ideally, he'd like twin boys and a girl!
(Story 1/7/2004 end)
KYLE LEAPS INTO OUR AFFECTION
When Melbourne based muscle marvel, Kyle Vander Kuyp was named 1998 Cleo's most eligible Bachelor his head was really spinning. But the super cool Olympian kept his feet firmly on the ground.
While the award confirmed what we at vibe already knew, that Kyle is a huge super spunk, the award also recognised that the cool man behind those Oakley glasses has achieved excellence in his given field, elite athletics.
Both Kyle and his girlfriend aren't too sure what the award means But as Kyle said, it is about excelling at what you do and what you do best and what you are as a person as well. It was a bit of a shock for Kyle, and something he didn't expect.
"They eliminated it to the last fifty and asked me to do cover shots. I thought that would be as far it would go… and then they said that I had won CLEO's Most Eligible Bachelor Of The Year. It was a bit overwhelming, I didn't know how to take it all, or what to do!"
Just keep being yourself Kyle, that is all you have to do! Congratulations.
Kyle's focus is on the 2000 games and we can expect to see Kyle Vander-Kuyp at the Olympics in 2000.And expect it to be one of the greatest high moments in Australian history.
Kyle, along with all Indigenous athletes will be out to show the world not only what great ability Australia has but also show off our Indigenous magic.
"The whole world will see what Australia is like and what we have here, and a big part of that is the Aboriginal culture. I feel honoured to be able to go on the track and represent Australia in a positive way," Kyle says.
Kyle is totally dedicated and disciplined to his sport. He trains six hours a day and juggles competitions with training.
Kyle finds it easy to focus on his training because he loves it so much.
"Hurdles are an exciting event…there are so many sections .It is never boring,"
Kyle says.
Kyle's training consists of speed and strength work in the gym or on the track as well as his own techniques to improve his times.
At the moment Kyle is focussing on that one big event , Sydney 2000. After that Kyle could have a lot of other offers but admits that it is a sport that most athletes become addicted to.
"I'll be twenty nine for Sydney, most hurdlers reach their late twenties early thirties. I am not ruling out the next Olympics, I'll be thirty three, I will probably still be running."
If we look a lot at the American and French runners, they are all in their late twenties early thirties when they have done really well.
"It is one thing to get physically right but then it takes years to get mentally right and have both things working," said Kyle.
"Athletes like Carl Lewis and Linford Christie are in their late mid thirties and doing their best times. It takes you so long to get everything sorted out," he said.
Keep your eyes out for Kyle, he isn't hanging up those boots after 2000.
He has a few more hurdles to get over.
Cleo reveals a bit more about the man.
Hangouts:In Melbourne, Café Sienna, Chapel Street, South Yarra
Which Famous Woman Reflects The Qualities You Look For In A Partner?
Tina Arena because she's talented, motivated and works hard to achieve her goals.
The Silliest Thing That You Have Ever Done For Love? I lent my car to my first girlfriend and she blew the engine up!
What Were You Teased About As A Child?I got teased about being a shade darker than all the other kids. Yeah, things have changed.
You Last Got Passionate About?The Olympics in Atlanta in 1996. This was something that I dreamed about since I was ten years old.
Number Of Times You Have Been In Love?Which way I answer this I could be in trouble-so I pass.

KYLE VANDER-KUYP

State:
VICTORIA

Date of Birth:
30 May 1971

Coach/Previous Coach(es):
Esa Peltola/Roy Boyd, Neville Sillitoe

Scholarship:
AIS

Height:
184cm

Weight:
82kg

Marital Status:
Single

Occupation:
Athlete

Club:
AIS

Place of Birth and Residence:
Sydney, Canberra

Record(s):
Australian record – 110m Hurdles – 13.29

Enjoys:
VW cars, shopping, designing, child care and coaching
Achievements:
World Junior bronze medallist in 1990 who is Australia's greatest ever high hurdler. Was magnificent at the Gothenburg World Championships '95, running an Australian record of 13.29 in the second round on his way to a close-up fifth in the final. Also made the Olympic final in 1996 and was awarded Cleo's Bachelor of the Year in 1998. Started the 2000 season in style with three good Grand Prix wins including a 13.58s run in Perth before incurring a foot injury which prevented him from defending his National Title.
Events and PBs:
100 metres 10.47
110m Hurdles 13.29
Source:
Athletics Australia
OLYMPIC COMPETITION DATES
ATHLETICS
22 SEPTEMBER – 10 OCTOBER 2000
VENUE – OLYMPIC STADIUM

Deadly Vibe Issue 77 July 2003
Kyle Vander-Kuyp is Australia's greatest ever high hurdler " and a really nice guy both on and off the field. The 32-year-old Sydney-born athlete """ who calls Melbourne home these days """ won his first national hurdles title at 21. He's now clocked up an amazing 10 titles, but he still savours each title as if it was his first. " I appreciate how hard [those titles] were to get," says Kyle. "They don't come any easier, that's for sure. Kyle has also run at two Olympic Games """ at Atlanta in 1996 and in his home town of Sydney in 2000. Whatever his achievements, though, Kyle remains a humble guy.
" It's been interesting to watch the changes in me over the years, from being a skinny teenaged kid who hadn't seen much of the world, to now where I've got confidence and I've reached the top of my sport. There's been a constant growing """ inside and outside."
While Kyle says he's "at the best years of my physical condition" and at an age where many hurdlers around the world have run their best times, he's also looking toward his future. He acknowledges that he has only a few more years of performing at the elite level.
" I'm aiming to finish at 35," Kyle says. "But I'm still motivated from the challenge of trying to get it all right, and from the mental and emotional effort that you need to put into it. That's what keeps me going." He's also motivated by the young guns """ such as Indigenous high hurdler Tim Ewen """ who have him in their sights. "They are as hungry as to knock me off my perch," he says.
Kyle wants to leave the sport having made such a mark that others will have a hard time ever beating his Australian record of 13.29 seconds for the 110m hurdles. " I like to do a time that puts it out there and makes it untouchable," Kyle says. "I ran my record in 1995 """ and it's been untouchable even for me for seven years! That's how fast I put it out there."
Kyle loves working with children, and would like to eventually become a primary school teacher. He's also planning on starting a family of his own once he hangs up his running shoes.
" I've got three kids in mind """ I've even got their names locked in my head," Kyle says. "I'd love to have twin boys and a girl."
(Story 1/7/2003 end)
Deadly Vibe Issue 81 November 2003
In 1996, Kyle Vander-Kuyp became the first Australian to make an Olympic hurdles final since 1952. Just four years later, he became a semi-finalist at the 2000 Sydney Games.
Throughout the 1990s, Kyle won eight consecutive national 110m hurdles titles and in 1995 he set an Australian record of 13.29 seconds at the Gothenburg World Championships, finishing fifth in the final. And with the 2003 Athens Games just around the corner, the whole country is set to cheer one of its favourite athletes all the way to the finish line.
While his athletic achievements are second to none, Kyle Vander-Kuyp has also proved himself to be far more than just a world-class athlete. He is also world-class role model, ambassador for his people and a great person in general. His charismatic and down-to-earth persona has endeared him to all Australians.
"I must say I'm pretty shocked – I thought I was just presenting tonight," said Kyle as he proudly accepted his Deadly award for Outstanding Achievement in Indigenous Sport in front of the cameras and audience at the Sydney Opera House.
Kyle was voted in as the Deadly winner ahead of some legendary Indigenous names, as well as a few personal idols of his own.
"Evonne Goolagong is someone I looked up to as a young kid," he said. "Growing up in Melbourne and being adopted, I really needed role models to look up to, and I think Evonne, Lionel Rose and Maurice Rioli as a football player were people I looked up to."
Kyle is without doubt one of our country' best-loved sporting personalities. Therefore, few people where surprised when Kyle took out this special honour. It is an accolade that he thoroughly deserves, and the recognition and support from the Indigenous community is something that is very special in his eyes.
"I really had an identity crisis as a kid," he said. "I didn't know what it meant to be Aboriginal. Being adopted, I had sort of lost that pathway and I used sport to find out who I was.
"So to get this award tonight, it's a great honour to be recognised in the community. It is something that is really close to my heart. I'm aiming for Athens and I'm doing it for all you guys out there – I'm proud to be Aboriginal."
(Story 1/11/2003 end)
"