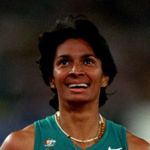 Deadly Vibe Issue 94 December 2004
From the Top
Olympic gold medallist Nova Peris takes us back to where it all began.
The Northern Territory's tropical capital of Darwin is an ideal place to spend your childhood. Sunny beaches, plants and wildlife of all descriptions, relatively untouched national parks and the untamed outback are all spread out before you in a dazzling array of everything beautiful that Australia has to offer.
Nova Peris is a Darwin girl born and bred, and although she now lives in Sydney, her heart and mind are still with Darwin.
"I spent the first 21 years of my life in Darwin," she says. "It was a great place to grow up.
"For me it was a very family-oriented childhood. I'm the eldest of 28 grandchildren, and my daughter is the eldest of nine great-grandchildren, so I spent a lot of time with my cousins – they're like my brothers and sisters."
Nova's young life was a very active one. From an early age, her weekends were filled with sporting activities of all descriptions.
"Saturday mornings I would do athletics, and then in the afternoon I'd play junior hockey," she recalls. "Then I might play tennis or go to a game of football. On Sundays I used to play senior hockey with my mum. My whole family played hockey – my sisters, my mum, my dad, aunts and uncles."
For anyone wanting to check out where Nova began her meteoric rise to Olympic gold-medal fame, pay a visit to Malak Oval, where Nova competed in bare feet on the grass running track. You can also visit Allawah Oval, where Nova spent her weekends whacking the hockey puck.
"In the wet season, when hockey wasn't on, we'd go down to this block of land we had by Darwin River and go camping and fishing and ride motorbikes and stuff – I loved it."
Although she left Darwin at 21 to train at the Western Australian Institute of Sport, Nova still makes sure she comes back to visit for at least three months every year.
"I love coming home," she says. "I get to catch up with family – we all gather together around at Nanna's and play cards or have barbecues, and there's always loads of kids running around, just like when I was small."
In 1993 Nova began spending more time with her natural father.
"He took me back to my Aboriginal roots," Nova says. "He lives out at Coburg Peninsula, so we'd head out to Kakadu or spend time at Coburg, fishing and shooting and stuff.
"Then there's Cannon Hill, which is my grandmother's country. There's this rock out there that's called injuwanjuwan; it's a spiritual being. I love to go out there when my mind is all cluttered from city living and just sit there and open up my mind."
When she's back in the city of Darwin, Nova has plenty of favourite spots as well, especially the Mindil Beach markets.
"You can get this chicken satay, and curry chicken laksa – heavenly," Nova sighs. "And a mango icy, which is like minced-up frozen mango. My daughter and I love them, and have to get one every time we go there."
Now that Nova has a family of her own, she makes sure that her children get to enjoy the things she did as a child.
"I want them to know all about their cultural heritage," she says. "I take them out to visit the old people and we all sit around and lister to their stories. I think it's so important for our young people to learn from their ancestors."
(story 1/12/2004 end)
Deadly Vibe Issue 88 June, 2004
Nova Peris was the first Aboriginal athlete to win an Olympic gold medal, as part of the women's hockey team in Atlanta in 1996. She also won two gold medals at the Commonwealth Games in Kuala Lumpur in 1998, in the 200 metres and the 4×100-metre relay.
"Being the first Aboriginal to win a gold medal was an amazing feeling, but it didn't really hit me until I'd returned home from the Games," Nova recalls. "I remembered doing an assignment as a child on Betty Cuthbert – she had been one of my heroes, and now I had become a hero to so many, simply through the love of a childhood dream.
"Although winning is great, it's not as important as simply giving it a go. At my last Olympic Games I didn't win, but I did run a personal best. To me, that was like winning gold. To get out there and do your best, that's what matters.
"But I'd have to say that my greatest achievment so far would be my three children. They bring laughter into my life every day."
(story date1/6/2004 end.)
First Aboriginal Olympic gold medal winner at Atlanta 1996 with the Australian women's hockey team. In 1998 Nova won gold at the Commonwealth Games in Kuala Lumpur, this time for her running ability.
Nova was an appointed delegate to the Constitutional Convention in Canberra in February, 1998.
[website]
Nova, who in 1996 became the first Aborigine to win an Olympic gold medal, was the first Olympic torch bearer on Australian soil. She won her gold medal in field hockey..
Nova switched from track and field, won a gold medal in the 200 metres at the 1998 Commonwealth Games, and is vying for a spot on Australia's track and field team this year.