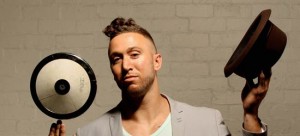 Olympic discus thrower Benn Harradine has been selected to represent Australia at the London Olympics in July 2012. He's determined to stand on the winner's podium and has gold firmly in his sights.
Benn began to make a name for himself in discus after fighting his way through to the final at the 2006 Melbourne Commonwealth Games.
In Beijing in 2008, having already broken the Australian record for discus-throwing twice, Benn became the first Indigenous field athlete to represent Australia at the Olympics.
At the 2010 Commonwealth Games in Delhi, he became the first Indigenous Australian to win a field medal at a major championship, throwing a distance of 65.45m to win gold. He is also the current Australian record holder, with a throw of 66.45m at the Continental Cup in Croatia in September 2010, a record he aims to beat.
Benn trains in Germany eight months of the year with his coach. When he's not overseas, he trains in Melbourne. However, Australia is always home and, when he can, he continues to devote time and effort to Athletics Australia's Indigenous Development Program.
Mentoring young Indigenous people and being a role model is particularly important for Benn.
"My family is from the Wotjobaluk and Wergaia people in the Wimmera region, western Victoria. I didn't find out that I was Aboriginal until late in life and it's been a really quick learning curve for our family," 29-year-old Benn says.
"My extended family has been really accepting of my father, helping him to put the pieces together and Dad's now considered an Elder of the community.
I am quite passionate about my Aboriginal heritage and so is my brother.
"Since it all began – I was 17 at the time – I have been struck by the humbleness of the Indigenous community. Learning about our culture has had its challenges though in that we have lost so much."
As Benn's profile grew and he continued to acknowledge his Aboriginality, some commentators questioned him and challenged him to acknowledge his white side.
"I think there is a lot of negativity in the way the media covers Indigenous issues, but you know I'm happy to be on this side of the fence."
Benn grew up in Newcastle, though his mob is from the Wimmera region. His parents have always been strong influences in his life.
"My parents were huge on always doing something outdoors and keeping us active. If the sun was shining, they'd say go outdoors and don't come back until the sun sets. We didn't have Xbox," he says.
"When I was younger I did so many sports, including decathlons. I had this tall body and really strong arms. I've been discus-throwing since I was 12 years old and I'm now 29, but not a day goes by when I don't love it."
London is Benn's second Olympics and getting chosen was "a bit of a relief," he says. "Everything is coming together at the right time and no-one is going to beat me."
He got a taste of the Olympic spirit in 2008 at Beijing. However, he caught a stomach bug two weeks before he was due to compete. He looks back on that as extremely unfortunate, but it has only deepened his commitment to winning gold in London.
"My training plan in the lead up to London is 'smooth and steady'. I've had an injury-free year and my ultimate goal is to stand on that podium," he says.
"Where I am today has had so much to do with my journey as an Aboriginal person.
As I've grown as an athlete I've stayed in touch with the Indigenous kids I mentor. The kids connect with my journey and I connect with theirs. I teach them about sport and healthy lifestyles and they teach me about my culture. They're giving me back far more than I'm giving them," Benn says.
Benn's Olympic dream has been years in the making. He decided as a young boy he wanted to be an Olympian.
"I love sport. At 18, I had the Olympic motto tattooed on my inner arm: 'Citius, Altius, Fortius'. These three Latin words mean 'Swifter, Higher, Stronger'. That way I remember what I'm here for."