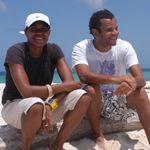 Back to the Bush
Cathy Freeman packs up the four-wheel drive and hits the road for another outback adventure.
It seems once you get a taste for the bush, you just have to come back for more.
After going through what she called a "life-changing experience" during the making of the first series of the Lonely Planet special Going Bush, Cathy Freeman was more than happy to venture back out into remote Australia for a second series.
"I was pretty much convinced to do a second series even before we finished the first one," she laughs. "I would not have hesitated for a moment. It is so far beyond fun – it's amazing."
Although her old travelling companion Deb Mailman was unable to join her in a second jaunt across the country – she recently gave birth to her first child – Cathy did not have to brave the dusty roads alone. This time around she's joined by actor Luke Carroll, and the two turned out to be perfect travel buddies.
"We had a ball," Cathy says. "Luke was a wonderful travelling companion – no dramas at all. Although he did get me with a few of his few practical jokes!"
While the first series of Going Bush took viewers from Broome to Arnhem Land, this second series sees Cathy and Luke travelling from Alice Springs to the Torres Strait – a 3000 kilometre odyssey that takes them from Uluru to the outermost edges of Australia.
"I wasn't sure what to expect really, except I knew that I wanted to learn more about my culture," Luke says. "I mean, I have an understanding of it, but growing up in the city, my understanding wasn't as strong as I'd like it to be.
"I just wanted to immerse myself in our culture, meet people and hear their stories."
Luke certainly got his wish, and then some. The series sees him doing everything from dancing in a corroboree with the Waramungu mob in Tennant Creek and judging a cowboy costume competition in Hermannsburg to learning to start a fire from kangaroo poo at the Devil's Marbles.
"Taking part in the traditional dancing with the fellas at Tennant Creek was just so incredible," Luke recalls. "It was my first ever traditional corroboree. We had the old men talking to us before the performance, painting us up and telling us what to do, and then we had to go out and perform it in front of the community and the elders.
"I was nervous as anything, but once I got out there I was really in the zone. It was definitely one of the highlights of the trip for me. I felt so proud afterwards."
Cathy had some nervous moments of her own. While at the Devil's Marbles, Cathy goes out with the local women to learn how to hunt for bush tucker. After cooking some water-holding frogs alive on the campfire, Cathy is then offered a nice, juicy witchetty grub to chow down on – live and squirming.
"I really had to work myself up to it," Cathy admits. "And as for the frogs – they were so cute! Ordinarily, my natural inclination would have been to hold them and kiss them, but that's not what they're for – they're a source of food. That's how you live in the desert."
Both Cathy and Luke are keen for the rest of Australia and the world to see how many positive stories there are about Aboriginal Australia, and hope that the series will encourage people to get out there and experience it for themselves.
"There's so much going on," Cathy says. "All these remote locations that have these thriving communities.
"Some of the things I've seen and learned will stay with me forever. It's just amazing how ancient and beautiful our country is. If you take the initiative you can get out there and see it for yourself."
Luke agrees, adding that he was delighted to see so many positive aspects to community life.
"We visited some areas that have received negative press in the past," he says. "But we didn't see any problems at all.
"I'm not saying there are no problems in Indigenous Australia, but there's so much more out there than that. Everyone we met was beautiful. Once you get there and see it for yourself you realise that our culture really is something special. It's something to be really proud of."
The second series of Going Bush screens on SBS throughout April on Wednesdays at 7:30pm.