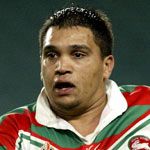 With the Rabbitohs' triumphant reinstatement into the NRL, 2002 is gearing up to be one of the greatest seasons ever. Souths had a lengthy two-year break from NRL following their refusal to merge with another team in the ARL/Super League fallout.
Now the two-year court battle is over and "the people's team" are officially back in the comp. And their first game, the traditional Charity Shield, will be held on 16 February at the Sydney Football Stadium against St George-Illawarra.
Key signing, former Wests Tiger Owen Craigie, is honoured to be playing for the legendary team.
"It's gonna be big!" he grins. "There's a lot of pressure on us to perform. But Souths is the people's team and I feel honoured to be a part of their first season back in the NRL. As long as we play consistently and competitively throughout 2002, I think we have the potential to be in the top eight.
"Another good thing about Souths is that we have 12 or 13 Aboriginal players in the squad. That's good for the local community here in Redfern, especially with two local boys – Nathan Merritt and Beau Mundine – being part of the team."
Media manager Norm Lipson agrees, noting that the Rabbitohs have always been regarded as "the Koori club".
"We've got Damien Mostyn coming over from Cronulla, and Owen's stripped 12 kg to be with us – he's in fantastic form."
While there has been talk of Souths trying to acquire last season's Dally M Player of the Year, Preston Campbell, Norm says that the little zapper is contracted to the Sharks for a while yet.
"But if they ever released him, of course there would be no hesitation!"
OWEN CRAIGIE – SOUTH SYDNEY RABBITOHS (EX-WESTS TIGERS)
After previous stints with the Newcastle Knights and Wests Tigers, Owen has joined the renowned Rabbitohs on the eve of their renaissance. With his silky smooth skills and brilliant spontaneity, the new slimmer Craigie could easily find himself on the representative scene this year. A prize acquisition for the much-loved "people's team", he has the added responsibility of being vice-captain to Adam Muir.