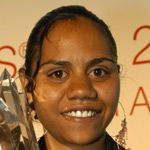 Deadly Vibe Issue 94 December 2004
Family Ties
Any port in a storm? Not for this bright young thing.
After winning the 2004 AFI Young Actor of the Year award, Natasha Wanganeen officially became one of the most promising young actors in the country. But while her burgeoning career may have already taken her to London, France and Italy, for Natasha there's still no place like home.
"I was born in Point Pierce, a little mission outside of Adelaide, and then we moved to Port Adelaide when I was five years old," says Natasha, who has starred in the feature film Rabbit Proof Fence, the acclaimed TV mini-series Jessica and Border Crossings' London production of Bullie's House.
"Growing up in Port Adelaide was deadly because I have so many cousins and relatives around there," she says. "I can jump on a bus and go anywhere in Port Adelaide and see someone from my family." Natasha is not the only celebrity in her family " her third cousin is Port Adelaide Power superstar Gavin Wanganeen.
Port Adelaide is located along the coast, twenty minute's drive northwest from the city of Adelaide. For many years the historic port has been the major shipping portal for South Australia.
"The thing I love about living in Port Adelaide is that it's always interesting " it never gets boring," says Natasha. "My favourite memory of growing up in Port Adelaide would be going down to the beach with my sisters and cousins and throwing those round white jellyfish at each other!"
Among the many things to see in and around her hometown, Natasha rates the Port Adelaide museum, the Train Museum, Fisherman's Markets and the Port Adelaide Light House as must-see places.
"If you're in Port Adelaide, definitely go fishing," she adds. "There's heaps good fishing down there."
With her AFI accolade providing her with plenty of motivation, Natasha is aiming for more success on the screen and stage. The only drawback to her success is that she may soon have to leave her home to pursue her career in bigger cities.
"I've just got a new agent and have already auditioned for a couple of big parts," she admits. "At the moment I'm just seeing how things go, and I'm looking at probably making a move to Sydney sometime soon."
While Natasha may be reluctant to leave her home in Port Adelaide, she knows that making it to the top takes a lot of sacrifice and moving to Sydney is just another important step.
"It will be really hard to leave all my family and friends, but if it's what I have to do then I have to do it," she says stoically.
"It wouldn't matter where I was living, though. I would always come home as much as I could. I couldn't be away from home for too long, I just love it too much."
(story 1/12/2004 end)