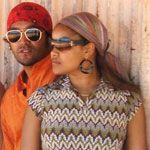 rong> Tribal Ties
Deadly Vibe Issue 116, October 2006
Backed by their sensation five-piece band, Troy "˜n' Trevelyn an d t he Tribe received some long over due recognition at this year's Deadlys.
Troy and Trevelyn Brady have been diligently toiling, touring, creating and delivering their unique musical message for many years now, and as they accepte d t heir Deadly award for Band of the Year at the 2006 Deadly Awards, it was obvious to see just how much this acknowledgment from the Indigenous community meant to them.
The singer/songwriters deliver music that can make you dance or make you cry, but at this year's Deadlys it was smiles all round.
"To the Tribe, thank you for your faith," Troy told the audience. "Thank you to my mother and father and everyone who helped us to get to where we are this evening.
"Also thank you to my mother and father in-law for babysitting. We're always out on the road and we're always looking for baby sitters."
Trevelyn also spoke of her gratitude to all of those who have helped them get to this point.
"To all the family and all the beautiful people out here who supporte d t he cause and got behind us " we're just so excited about being a part of all this," she said.
Well know for his passion and zeal for both his culture and his music, it was Troy who ha d t he final word.
"As I stand here before you, I pledge my commitment to advocating and representing Indigenous people of this country to the day I die," he said, brandishing his award to raucous cheers from the crowd.