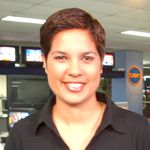 Narelda Jacobs, a news reporter for Channel Ten in Perth, has never had any qualms about what she wanted to do in life.
"I wanted to be a reporter ever since I was in primary school," the attractive 28-year-old says. "Although there were no Indigenous role models in the media for me to look up to, my parents watched a lot of current affairs programs so that was probably a big influence."
Narelda understands the importance of providing young children with role models, and so she often volunteers her time to visit schools in the surrounding areas.
"I talk to the kids about the importance of self-respect, and the importance of building a future," she says. "I teach them how important it is to take responsibility for your own actions, to stop blaming others and to start healing."
Although at times her job can be stressful, Narelda has always had the support of her community behind her.
"I've seen some pretty upsetting things," says Narelda, who won a Royal Surf Life Saving Society Media Award for her report on a Perth infant who drowned in the family fishpond at his own first birthday party. "But I can be out shooting somewhere and people will come up to me and shake my hand, telling me what a good job I'm doing.
"It really makes a difference."
(story end July 2004)