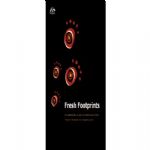 Hey, you deadly mob! Want to read about young people just like you who, with a whole lot of drive and determination, have achieved some pretty extraordinary things?
Fresh Footprints is a booklet by two young up-and-coming Indigenous journalists, Kate Munro and Michelle Tyhuis. It tells the stories of young Indigenous people who have set goals and let nothing stand in their way before achieving them.
From the sporting achievements of world-ranked surfer Lucas Proudfoot and Australian touch football representative Bo De La Cruz, to the successes of aspiring Indigenous author Joleen Ryan and the awe-inspiring feats of future leaders such as 1999 NAIDOC Young Person of the Year and UN delegate Tim Goodwin, Fresh Footprints is an inspiration to anyone who reads it.
"The young people I interviewed were a phenomenal inspiration to me," says co-author and Young Indigenous Journalist of the Year, Kate Munro. "To see this level of achievement and, more importantly, passion in Australia's young Indigenous community is an inspiration to Indigenous and non-Indigenous people alike."
Co-author Michelle Tyhuis agrees. "Fresh Footprints shows the nation that we young ones are deadly, and that we can determine our own futures and accomplish our dreams."
The booklet was launched last month by the Minister for Education, Science and Training, Dr Brendan Nelson, and the Minister for Children and Youth Affairs, Larry Anthony.
So how did it come about? The first National Indigenous Youth Leadership Group (NIYLG) recommended to the Government that the booklet be produced in the hope that it could help motivate and empower other young Indigenous Australians to achieve their goals.
The NIYLG was set up by the Federal Government to allow young Indigenous Australians to talk face-to-face with Government and advise it on Indigenous youth policy.
Now the new NIYLG has been formed. Members met for the first time in June, and yarned with Government ministers, departmental representatives and community leaders about issues in their communities.
Want to find out more about the Fresh Footprints booklet or the NIYLG? Call the Commonwealth Department of Family and Community Services on 1800 624 309 or visit the Federal Government's youth website at www.thesource.gov.au.