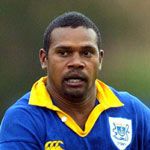 Deadly Vibe Issue 80, 2003
Milton Thaiday announced himself to the rugby world in style this year, capping a meteoric rise from obscurity when he made his run-on debut for the Waratahs in their round-nine clash against the Crusaders at Aussie Stadium.
The exciting utility back was named in the starting team as a replacement for the injured Matt Burke, and he repaid selectors' faith by electrifying Waratah fans with his very first touch of the ball, putting on a dazzling display of pace and skill, and setting up a try for Morgan Turinui. He then crossed for his own off a Nathan Grey kick in the 46th minute.
It has been a rapid rise to the top for the 23-year-old Queenslander. Only two years ago, Milton was playing rugby league for the Lismore Tigers when he was recruited by Waratah assistant coach Garry Ella and lured to Sydney on a training contract.
After playing in a trial match against Auckland, Milton spent the rest of the season playing first-grade rugby in Sydney. Remarkably, he had played only 48 minutes off the bench in the Waratahs' first two games in 2003 before his spectacular debut as a starting player in the Crusaders match. As one of the Waratahs' most promising new talents, his profile is sure to rise. A Wallabies guernsey may well be the next stop on Milton's rise through rugby's ranks.
Deadly Vibe Isuue74, 2003
Milton Thaiday began playing rugby just two years ago and now he's an up-and-coming member of the new-look Waratahs. Joining the likes of Matthew Bourke, Matt Rodgers and Loti Taquri, Milton is thoroughly enjoying his rugby with the Waratahs.
" I first started out playing rugby league," says Milton. "I was living in Lismore at the time and my tape was sent down to (coach) Bob Dwyer. Then (the assistant coach) Garry Ella came up to Lismore to interview me and to talk about the Waratahs and what they'd like to offer me. They offered me a three-month training contract.
" It feels great to be a Waratah – I'm living my dream, you know – I've always wanted to play at the top level and I'm loving it, it's good," he says. "I'm not looking to cement a spot this year. I'm more looking at cementing a spot within the 22-man squad, that's the main thing."
Being a fullback, Milton is a man who loves a bit of pressure. "I love getting up there and having a go under the high ball," he says. He also likes to return the ball. "I love returning the football, finding gaps and running straight through the defence," he says. "Breaking tackles is one of my favourite parts of the game."
Milton's ultimate goal is to play for the Wallabies. "At the moment I'm here at the Waratahs for two years and we'll see how it goes," he says. In the meantime, he's enjoying his time with the Waratahs. "My team mates have been great. They've been helping me in areas where my game needs improvement. If there's a problem, someone will come up and have a chat with me. They've been fantastic."
Milton says there is a fair amount of responsibility in being a Waratah. "We have about 100 plays that we have to know of by heart," he says. "Gary Ella puts them all together in a play book and we have to remember them. If we go onto the field at any given moment and a certain play is called, I'll know where to be positioned."
Milton says that besides Gary Ella, his partner Ruth Shinn has also been a big inspiration. "I have a huge respect for both of them," he says. "They've kept me focused on rugby in all aspects of the game. Whether it be training or keeping my body in shape, they have been a great help."
Milton has also inherited a new nickname at the Waratahs – "Shaft". He explains that it's all because of Samuel L. Jackson. "Because I have curly hair, I'm positive the boys think I look like him!"