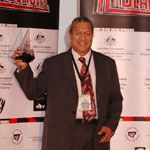 Doctor in the House
Deadly Vibe Issue 116 October 2006
A hard-working doctor gets a big thank you from the Aboriginal community.
There are so many incredible people out there who are working tirelessly to improve the health and wellbeing of Aboriginal and Torres Strait Islander people. Every single one of them deserves our gratitude, and every single one of them deserves recognition for their efforts.
On the night of the Deadlys, one man who has been working for many years to improve the health of Aboriginal men finally received the recognition he deserves, taking home the Deadly Award for Outstanding Achievement in Aboriginal and Torres Strait Islander Health.
Mick Adams has been working in the health industry for over 30 years.
He has worked in both state- and the community-controlled health service sector, has been a representative on local, state and national boards, and has been nominated as a representative to advocate for Aboriginal and Torres Strait Islander health issues on national boards and national and international conferences.
During the past 13 years Mick has been actively involved in addressing issues associated with the health and well-being of Aboriginal and Torres Strait Islander men. He has strived to ensure that men's health issues are promoted and placed on the national and international agenda through advocacy, research, publication and health management.
"Id like to dedicate this award to all the men out there who are taking steps to improve their health, and that of their communities," he said upon receiving his award.
Mick is currently one of a few Aboriginal men undertaking a PhD in public health.
He, along with the likes of Dr Mark Wenitong, Dr Noel Hayman and Dr Alex Brown, and Aboriginal leaders such as Sam Watson, has been highlighting his disappointment and speaking out against family violence and child abuse.