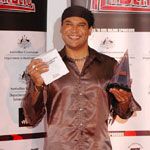 The Entertainer
Deadly Vibe Issue 116 October 2006
A chef with a difference takes out the Deadly for Entertainment.
It was anyone's guess who would take out the Deadly Award for Outstanding Achievement in Entertainment. All four nominees are exceedingly popular among the Aboriginal and Torres Strait Islander community – Sean Choolburra for his hilarious stand-up antics; Mark Olive for his successful Outback Café program on the Lifestyle Channel, Samantha Harris for her stunning looks and unprecedented success in the fashion industry; and Deborah Mailman and Catherine Freeman – both beloved by all Indigenous people, and nominated for their hit SBS show, Going Bush.
So when the fellas from Ten Canoes came out to present the award, audience and nominees alike knew it was going to a very close call.
But the voting public had had their say, and Mark Olive was victorious on the night. His surprise and delight was evident as he came up the brightly-lit stairs and accepted his award.
"It's taken me a long time and lot of hard work to get this far," he said. "I really didn't expect to win."
Mark's show, Outback Café, is a mouth-watering showcase of traditional bush-foods, cooked in a contemporary style. He also profiles different Aboriginal communities, illustrating the beauty and diversity of Indigenous Australia.