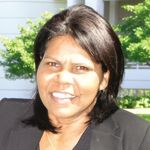 Deadly Vibe Issue 89, July 2004
Marion makes a difference
Marion Scrymgour made political history as the first Indigenous woman to be appointed as a government minister in Australia.
In December last year, Marion was sworn in as the Minister for Family and Community Services, Environment and Heritage, as well as the Minister Assisting the Chief Minister on Women, Youth and Seniors in the Northern Territory Government.
Born in Darwin in 1960 to a Tiwi mother, Marion is also the elected member for the NT electorate of Arafura, an area with a population that is 74 per cent Aboriginal. This makes her one of only four Indigenous women currently elected to any parliament in Australia.
In both of these roles, Marion strives to highlight the plight of Indigenous women and children.
"One of the main reasons why I stood for this position was to get the issues that affect Indigenous women and children out into the open and on the table for discussion," says Marion.
"For instance, there's a lack of access and equity for our women in community economic development, as well as in health, education and childcare."
But for Marion, the most important issue at hand is the protection of our children.
"I hope to help create a system that will be fair and equitable, to ensure that our children are safe and that they have choices in their future lives," she says.
Marion also hopes to encourage more young Indigenous women to get involved in politics.
"I don't want to see myself remaining as the only female Indigenous government minister," she says. "I talk to a lot of young women, to help break down the perceived barriers, to show them that they can be where I am today."
(story date July 1, 2004 end)