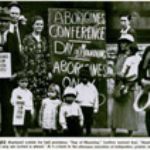 Deadly Vibe Issue 90 August 2004
Sowing the seeds of sorrow
January 26 has never been seen as a day of celebration by Aboriginal Australia. But for 150 years following the invasion of Australia by white colonialists, the Indigenous community's feelings of grief and anger remained unheard.
However, by the 1930s, Aboriginal people were becoming more organised – and more politicised. In 1932, an Aboriginal activist called William Cooper formed the Australian Aborigines League, to protest against the living conditions that Aboriginal people were forced to endure.
Cooper also tried to lobby the government for Aboriginal representation in Parliament, and asked that a petition be sent to King George V. Both of these demands were ignored.
In 1937, Aboriginal rights activists William Ferguson and Jack Patten founded the Aborigines Progressive Association. The organisation was created to coordinate an event marking the 150th anniversary of British invasion.
Together with other civil rights activists, Ferguson, Cooper and Patten organised an Aboriginal conference that included a 'Day of Mourning and Protest', to be held on Australia Day, 1938. Only Aborigines and those of Aboriginal descent were invited to attend.
Before the event, organisers travelled around New South Wales to publicise the conference, often being thrown off missions and reserves by white managers in the process.
Ferguson and Patten also wrote a manifesto titled 'Aborigines Claim Citizens Rights', which they sent to newspapers across the country to gain public support.
The manifesto opened with the following statement:
"The 26th of January, 1938, is not a day of rejoicing for Australia's Aborigines; it is a day of mourning. This festival of 150 years' so-called "progress" in Australia commemorates also 150 years of misery and degradation imposed upon the original native inhabitants by the white invaders of this country."
On January 26, 1938, a group of more than 100 Aboriginal people gathered in Australian Hall in Sydney's Elizabeth Street to hold a public protest, to mourn the loss of their traditional land and to demand the same basic rights granted to the white population. Speeches were made, resolutions were passed and a list of 10 demands regarding changes to Aboriginal policy was drawn up.
The people attending this event were putting themselves at great risk, as many laws were still in place that restricted Aboriginal movement and communal gatherings.
The Day of Mourning was the first Aboriginal civil rights protest, and it achieved national media coverage, as well as an agreement by the then prime minister John Lyons to meet a group of Aboriginal representatives, who presented him with the list of demands. These demands formed the basis of the 1967 referendum.
The actions of these brave protesters helped shape the direction of future Aboriginal affairs, the development of the contemporary Aboriginal political movement and the establishment of such important events as NAIDOC Week.
The site of the protest is now protected by a permanent conservation order.
(story 1/08/2004 end)