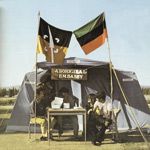 Deadly Vibe Issue 90 August 2004
Thirty-two years on, the Aboriginal tent embassy still has special significance.
On the afternoon of January 26, 1972, a tent appeared on the lawns in front of what is now Old Parliament House.
This was the beginning of the Aboriginal Tent Embassy, the oldest active protest site in Australia.
The embassy was set up following Prime Minister Billy McMahon's Australia Day 1972 announcement of his government's Aboriginal policy. Aboriginal activists had long been calling for land rights, and several claims had already been made – and rejected – by the High Court. When McMahon announced that Aboriginals had no right to land or compensation, this was the last straw for many activists. They realised that they had to take drastic action if they wanted the Federal Government to recognise Aboriginal claims of a legal right to land.
The original inhabitants of the tent embassy had done their research. There was no law that prohibited camping on the parliamentary lawn. Therefore, police could not remove them. After six months, McMahon rushed a special law through Parliament, making it illegal. Police then entered and destroyed the embassy.
But it was already too late. The embassy had received national and international attention, highlighting the plight of Indigenous people. Indigenous groups from all over the country travelled to the site to join the protest.
The embassy has since been re-erected and destroyed several times, but today it is still standing proudly.
The tent embassy is located within the traditional lands of the Ngunnawal people of the Wiradjuri nation, and is believed to have been a traditional meeting place. It was here that the Aboriginal flag first received recognition. It is also the site of the Fire for Justice, which was first lit in 1993 and which is always kept alight.
In 1995, the Australian Heritage Commission announced the inclusion of the tent embassy site on the register of the National Estate, accepting it as a place of special significance to Aboriginal and Torres Strait Islander people.
(story 1/08/2004 end)