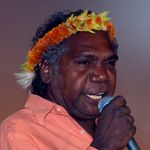 Deadly Vibe Issue 93 November 2004
Surprise for music legend
When Yothu Yindi frontman, Mandawuy Yunupingu, was announced the winner of the inaugural Jimmy Little Award for Lifetime Achievement in Aboriginal and Torres Strait Islander music, no one was more surprised than Mandawuy himself.
He was actually heading out of the Opera House Concert Hall towards backstage, ready to present another award, as the nominees for lifetime achievement were being announced.
Luckily, someone at the door told him to stop and wait – and that's when Mandawuy heard his name called as the winner.
A shocked Mandawuy made his way to the microphone and said: "I'm pretty well overwhelmed – it was a well-kept secret and I didn't know I was going to get this.
"I'm really glad and hopefully with this award the people who are coming up behind, hoping the future is going to be bright and shining for Indigenous music, will be able to benefit from it. Hopefully, Indigenous music will never die."
The award was presented to Mandawuy by Jimmy Little's grandson, James Henry, as Jimmy was in Western Australia to play a benefit concert for the Royal Flying Doctor Service, which played a vital role in rushing him back to Sydney for a kidney transplant earlier this year.
In a video message, Jimmy told the crowd at the Deadlys that he was "very proud and honoured" to have the award named after him. "It's a beautiful tribute to my family and me for 50 years of survival in the entertainment business," he said. "I'm so happy to see my people get the recognition they deserve."
(story 1/11/2004 end)
Deadly Vibe Issue 89, July 2004
Tribal voice
One of the best-known faces of Indigenous Australia, Mandawuy Yunupingu has made it his life's work to encourage the development and understanding of the Aboriginal way of life.
Born in 1956, Mandawuy gained a Bachelor of Education in 1987 and in 1990 became the first Aboriginal to become a school principal, at Yirrkala school in the Northern Territory. Here, he concentrated on both black and white ideas and methods, in an attempt to create a more balanced education system.
"I was trying to keep my feet on both grounds," he says, "trying to bring an understanding of traditional methods of education into the mainstream. It was something new, something different."
Following the worldwide success of his band Yothu Yindi, which brought important Aboriginal issues into mainstream awareness, Mandawuy was made Australian of the Year in 1992.
Mandawuy has now formed the Yothu Yindi Foundation with his brother Galarrwuy and elders from five Yolngu clans, the Gumatj, Rirratjingu, Djapu, Galpu and Wanguri.
"One of the Foundation's key objectives is to help build the development and the enterprise potential of Yolngu cultural life," says Mandawuy. "And we want to further the sharing of knowledge and culture, especially between Indigenous and non-Indigenous Australians, thereby creating a greater understanding between the two."
The Foundation's flagship is the Garma Festival – quite possibly Australia's biggest
Indigenous cultural event – which is held in August each year, in north-east Arnhem
Land.
"The festival is in its seventh year this year," says Mandawuy. "We set up Garma to inform people, particularly non-Indigenous people, about Aboriginal Australia. We want to show them how they can learn from us, so we can all live together in a balanced situation.
"Garma is the perfect forum for this."
The Foundation also works with communities to further economic, employment and training opportunities for Yolngu. It also works to encourage the practice, preservation and maintenance of traditional culture.
"Some people think that Aboriginal culture might die, but our culture is here to stay," says Mandawuy. "It will live forever. Things like Garma are an opportunity to celebrate our culture through song and dance and the telling of stories, legends and philosophies.
"At the same time we are trying to embrace what modern Australia is, so that Aboriginal people can feel comfortable living in it."
Garma will be held near Nhulunbuy, north east Arnhem Land, from August 6-9.
(story date July 1, 2004 end)