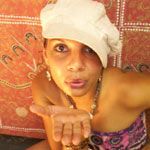 With just days to go until Vibe Alive lands in Weipa, it is with great excitement that we announce our special guest role model – local Queensland rap superstar Dizzy Doolan!
Dizzy Doolan grew up in Townsville and Cairns, surrounded by a respected musical family, the Doolans, who performed throughout the '80s and '90s in the bands Dr Bones and Black Rose. Having been influenced and inspired by music throughout her childhood, it was no surprise when Dizzy followed in the family tradition, writing her first song at only eight years of age. When she turned 18, Dizzy headed to Brisbane to pursue her career as a performing artist where she is making inroads on the local circuit and starting to receive the recognition she deserves.
"I'm definitely looking forward to the Vibe Alive event in Weipa. I've never been to Weipa before and I think it's going to be a great experience," says Dizzy. "Being a Murri woman from Queensland, I love supporting a Queensland-based event, I look forward to more opportunities for young people here as I have a strong passion for our youth."
As well as performing, Dizzy will join the other stars, including So You Think You Can Dance stars Sermsah 'Suri' Bin Saad and Courtney Walters, to judge students' performances and offer advice.
"One motto I always tell myself is 'Effort + Patience = Success', and that's something I hope to share with the kids at Vibe Alive," Dizzy says.
Vibe Alive wraps up its 2009 festival program in Weipa, when students from across Queensland gather at the Western Cape College Weipa Campus on September 16-17 for two full-on days of music, sport, art and culture. To help the community of Weipa celebrate this exciting event, a special Vibe Alive Community Concert and Film Night will also be held at the Western Cape College Weipa Campus, Central Avenue, Weipa, from 6.30pm on Wednesday, September 16.
Vibe Alive is a two-day festival for young Australians of all backgrounds that incorporates music, sport, art, education and health in a high-energy, youth-friendly setting. Vibe Alive is a new event series funded by the Australian Government's Community Festivals for Education Engagement program, which supports targeted events that encourage school attendance, retention and healthy lifestyles for young Australians, in particular, Aboriginal and Torres Strait Islander students.