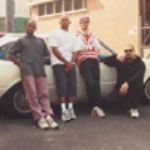 Formed in 1992, South West Syndicate are a collective of predominantly Indigenous musicians and performers from Sydney. Core members are Brothablack, Monkey Mark, Naz, Nadine, Les and Terrance, with additional members including Kider, Dax, Ebony, Mohammed and Steven. Members' ages vary from nine to thirtysomething.
SWS' music is best described as hip-hop. The music incorporates sequencing, sampling, live instruments such as didj, and rapping. Raps are done in language, and in English with Australian (not American) accents and lingo.
SWS are unashamedly political, with material focusing on a range of issues including Indigenous rights, equality, racism and politics.
SWS have played at many events including Survival, Sydney Writers' Festival, NAIDOC Week, Arafura Games, Bankstown Festival, Bankstown Carnivale, Newtown Festival, Rock Against Racism, Asia-Pacific Conference, Youth Week, Corroboree 2000, Mascon Festival, Barunga Festival and Pacific Wave Festival.
SWS have recorded segments for Recovery and Triple J, helped run Hip-Hop Up Top for Triple J in Darwin, performed at the Australian Museum, recorded material with Warren Williams, Nabarlek, Emma Donovan and George Rrurrambu, and supported Blackalicious, Mystic Journeymen and Living Legends on tour.