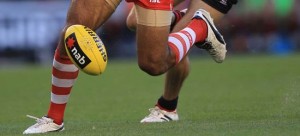 In keeping with our footy theme, this month's healthy recipe is all about a healthy footballers' diet for all you budding young sportspeople out there, with a handy little banana smoothie recipe to keep your energy levels up.  Of course, you don't have to be a footy player to get benefits from following some of the staples of this diet. After all, a footballer's diet must enable them to maintain peak levels of fitness throughout their games and everyday life.
The energy requirements for footballers are high, so they have to eat the right foods to stay in the game. However, because footballers are burning up so much energy, they tend to eat more food and carbohydrates than average, so if you're not burning up energy by regular exercise, you really want to keep an eye on how many calories you're consuming each day, and keep it in a healthy range. Remember, the best diet is the one tailored to you as an individual.
A footy player's diet should be:
High in Energy  – Players eat three meals and regular snacks every day.
High in Carbohydrates – High carbohydrate rich foods should be the basis for most meals and snacks to improve performance, recovery from training and the building of muscle mass. Great sources include breakfast cereal, bread, muffins, crackers and crisp breads, rice, pasta, potatoes, and fruit.
 Moderate in proteins  – Proteins are an important part of helping to build and repair muscles that might have been injured during the match. Foods like meat, fish, chicken, eggs, dairy products, legumes (things like lentils and soy beans) and nuts are all high in protein. There is no need to eat masses of extra protein to "bulk up." Protein-rich foods are not the main source of energy for exercise. In most cases the amount of protein required can be achieved simply by following a balanced healthy diet, which contains sufficient carbohydrates.
Players' diets change according to what part of the year it is. During the season there will be a higher intake of carbohydrates to protein, whereas this will be reversed during the off season.
 Low in FAT  – Players try to avoid too much butter, margarine, fatty meats, high fat takeaway and snacks, fried food and creamy sauces.
 High in fruit and vegetables  Fruit and vegetables are necessary for preventing illness, building muscles and repairing injury. Players should include at least 5 servings of fruit and vegetables each day.
 Low in alcohol  – Alcohol leads to poor recovery, slow repair of injury, and can contribute to excess weight.
 Post Game  – Carbohydrate rich foods after a game help with recovery.
 Snacks  – These may include a sandwich with low-fat cheese, beef, chicken, tuna, boiled egg, bananas, fruit muffins, a bowl of cereal with low-fat milk, low-fat yoghurt, fresh fruit, dried fruit, low-fat cereal bar, sports drink or fruit smoothies.
Post-game banana smoothie recipe
Chuck it all in a blender, press go, and bob's your uncle, a delicious, healthy, energy packed banana smoothie.
1 banana
1 cup mango pieces
1/2 cup low-fat plain yoghurt
1/2 cup milk