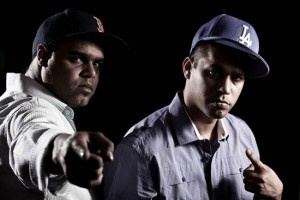 The Yung Warriors are brothers, Tjimba Possum and Narjik Day Burns. They are the sons of Selwyn Burns of legendary Indigenous band Coloured Stone.
Tjimba says he had a lot of surprises as a young fella growing up as Selwyn Burns's boy.
"Dad hung around with and worked with some interesting musicians. I guess that's where I got it from, that legacy, and I am conscious of taking that on," he says.
He got into Hip Hop because, "all of the brothers and sisters were into it. Me and my brother used to breakdance. I was also writing a lot of poetry. I was writing songs too. I started getting up for Freestyle."
Collaboration with International heavyweights including Outlawz (Tupac's group) and others followed.
"That was unbelievable when they came here for two weeks – it just taught us a lot. Hanging out with them was cool. To them Hip Hop is second nature. They walk straight into the booth without the lyrics in their hand," Tjimba says.
The new album has been produced by Payback Records, which was started by Essendon footballer Nathan Lovatt Murray. "It is unbelievable. We went to school together. We got together and came up with a few ideas and it went from there. I thank him heaps and starting this label is just another step," he says.
The Yung Warriors are playing with some other Hip Hop heavyweights on this tour including Impossible Odds.
"Music is my life and we are just taking it to the next level. Forming the team and having the fans behind you to support you."
Tjimba says there is a repetitive rhythmical aspect to Hip Hop that reminds him of song cycles.
"I have both sides of my culture – the urban side and the Northern Territory side. I have my culture, I have my language. I still have the initiation, etc. I reckon we have had that with chants and songlines over the years. Reggae has been a big part of our music as well. I reckon we're just a branch of old music – Warumpi Band, No Fixed Address and Coloured Stone – that stomp and chant," he says.
"But there are many variations of Hip Hop and there is so much talent out there. There is a fusion of Hip Hop and Techno too."
He says patience is required for recording.
"It can be stressful. You are constantly in the studio, thinking about what to bring out – what material?"
After the tour, the duo hopes to make more albums
"Our next goal is more albums, to bring out more material, move around and bring new talent up," he says.
For more information about the Yung Warriors and their current tour go to www.yungwarriors.com.au/cms