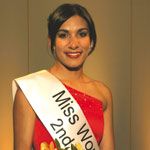 Deadly Vibe Issue 106 December 2005
Black Beauty
Is this the face of Australia? Deadly Vibe meets our very own beauty queen.
The beauty of Aboriginal people is the beauty of the real Australia " strong, proud and unique.
In an act that illustrates how this beauty is now acknowledged more than ever, a young Indigenous woman from South Australia has been named as a finalist in the Miss World Australia competition.
Kimberly Wanganeen will be heading to Sydney later this year as one of four finalists from South Australia for the crowning of Miss World Australia, which will see one lucky young woman receiving an all-expenses paid trip to China to represent Australia at Miss World, the most watched annual television event in the world.
"It's all happened so fast," says 21-year-old Kimberly, who works at the O.G Roberts and Co. Holden Dealership in Mount Gambier as a stock controller. "I heard about the local heats, and I just thought I'd give it a go."
The competition is about a lot more than just good looks. Contestants are also judged on health and fitness, poise, talent and intelligence.
"During one part of the state finals we had lunch with the current Miss World Australia, Sarah Davies, and we had to have etiquette training," Kimberly says with a laugh. "We had to learn how to eat " stab your food, slice it, put your knife down and eat with your fork " it was really funny."
Contestants also had to walk down the catwalk in front of 260 people wearing different outfits, including swimwear.
"I'm a fitness instructor part time, so luckily I didn't feel so uncomfortable about the swimwear," Kimberly says. "I'm in pretty good shape and I'm used to wearing little crop-tops and stuff " it wasn't so bad."
Contestants also need to undergo an interview process and showcase their talents in music, drama or dance.
Kimberly is the only Indigenous finalist in the competition, and she is proud to be representing her culture.
"From the very beginning I made sure that my Aboriginality was well known," she says. "I've always been very proud of my culture and try my best to provide as many people as I can with cultural awareness in order to prevent discrimination.
"I want to be a good role model for other young Aboriginal women as well as being a good Indigenous ambassador."
Miss World Australia will be judged over September 17, 18 and 19, with the winner being announced on the evening of September 19.
(Story 1/12/2005 end)