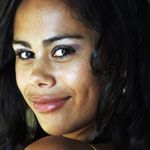 Stylin' Up
They're young, black, deadly . . . and gorgeous.
The recent international success of stunning young Aboriginal model Samantha Harris has brought the fashion industry's attention to the unique beauty of Australia's Indigenous people.
Samantha is certainly not the first Aboriginal model to find fame in the modelling industry " Miss Aboriginal Australia 1997 Delvene Parkin, 1960s catwalk model Lois Briggs and 1993 Vogue covergirl Elaine George are some of the best known Indigenous models to enjoy success in the last few decades " but Samantha's accomplishments both here and overseas are now opening new doors for Aboriginal and Torres Strait Islander models across Australia.
To capitalise on the growing interest in using Indigenous models in the fashion industry, former model Evelyn Walley has started up a new agency exclusively for Aboriginal and Torres Strait Islander people looking to break into modelling.
Brolga Model Management was launched earlier this year at a lavish party at the Wallaby Bar on Cockle Bay Wharf in Sydney. A host of gorgeous Aboriginal and Torres Strait Islander men and women were in attendance to showcase the diverse and dazzling look and style of Indigenous Australian people.
The fashion industry is certainly a hard one to break into, but Evelyn hopes that by promoting Indigenous models through a specialist agency, she can increase the modelling experience and employment opportunities of many more young hopefuls who dream of following in the footsteps of Samantha Harris.