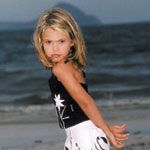 Deadly Vibe Issue 109 March 2006
You Little Beauty
At just 11 years of age, this young model already has the world at her feet.
For most 11-year-old kids, life is pretty simple. You go to school, you come home, you play with your mates. But for one young Aboriginal girl, life also includes catwalks, photo shoots and her face on TV.
Inka Kassidy has been modelling since she was nine, and is already displaying the kind of stunning looks that international modelling agencies would die for.
Born in Gilgandra, Inka moved to Bourke before her family settled in Newcastle. It was here, three years ago, that a talent scout spotted Inka's potential while the family was out on a boat trip.
"He told us that she was gorgeous, and that we should get her an agent," says her mother, Kathryn.
The rest, as they say, is history.
Inka now has a string of modelling achievements under her belt, including television ads for Home World and ALDI supermarkets and appearances in Total Girl, Barbie and Studio Bambini magazines.
But even with all this modelling work, Inka still manages to keep her feet on the ground.
"She does really well at school," Kathryn says. "And when she's at home she's just like any other kid. She loves playing with her mates.
"She's really level-headed. She has already started saving to buy a car with the money she's earned!"
Future stardom certainly beckons for this Indigenous beauty, and Inka is excited about the opportunities that may be open to her.
"She has a saying about when she finishes school " "˜Goodbye Australia, hello Paris'," Kathryn laughs.
With a smile like that, we're sure she'll be welcomed with open arms.
(Story 13/2006 end)