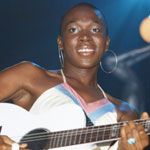 Eight years after her standout debut release, Grammy award-winning songstress India Arie is back with her latest and arguably her best album yet.
When India Aria released her debut album Acoustic Soul back in 2001, she was like a breath of fresh air sweeping through the music industry. At a time when the majority of young female performers were adhering to the "sex sells" motto and shaking barely covered backsides in raunchy music clips to sell records, India released her first single Video with the classic lines: "I'm not the average girl from your video/and I ain't built like a supermodel/but I learned to love myself unconditionally/ because I am a queen".
With her unique release, India became an instant role-model to thousands of young women around the globe, who identified instantly with her very real, rootsy image and message. Brave enough to buck the trend and confident enough that she could survive in a cut-throat industry on talent alone, India proved that success in today's image-driven world of gimmicks and advertising was still possible simply by staying true to yourself.
India's music is inspired by the soul music of yesterday, Motown and blues, but is also grounded deeply in today's hip hop culture. Born in Denver to parents from Memphis and Detroit, at 13 India moved to Atlanta with her family where she became immersed in the city's fertile music scene. She became part of an artist's collective called Groovement, and released a compilation CD of her first songs on independent label EarthShare. After touring in 1998, India caught the eye of several major labels and eventually signed with Motown after being assured of having full artistic control over her work.
India then spent two years working on her debut release, Acoustic Soul, which featured rich textured songs and impressive mature lyrics. It was a unique release filled with important messages surrounding self acceptance and womanhood. The first single Video received substantial air play and the album became an instant neo-soul classic, receiving seven Grammy nominations.
Just over 12 months later, India finished work on her Grammy Award winning sophomore album Voyage to India, which was released in 2002. Now, five years after her first release, India is back with her latest offering – Testimony Vol 1: Life and Relationships.
The album was released last month and debuted at #1 on the Billboard Charts. Produced by long time collaborators Shannon Sanders and Mark Batson, Testimony Vol: 1 has already received international acclaim. Fans who loved her first two releases will not be disappointed.
Just like her previous albums, India speaks straight from the heart with all the rawness, vulnerability and honesty that make her music so unique and successful. The album is filled with hypnotic rhythms and soulful melodies, jumping from topics such as heartbreak and forgiveness to self-image and acceptance.
The first single from the album is I Am Not My Hair, a track that resembles the issues India approached in her first single Video. Once again, on this track India makes it clear that women are not defined by how they look.
In what is probably her most personal work to date, other tracks such as Good Mourning, The Heart of the Matter and Wings of Forgiveness reflect the album's title, consisting of all India has come to learn about relationships on her own journey. This is perfectly surmised in the centre-piece of the album, India's Song.
Not only has India performed with artists such as Sting, Elton John, Aaron Neville and Sergio Mendes, she is also a US Ambassador for UNICEF. She is an acknowledged spokesperson for social and humanitarian causes around the world and she recently travelled to Africa where she assisted in humanitarian efforts taking place in the epicentre of the global AIDS crisis.
With music that is uplifting, empowering and reflective of real life and real relationships, India Aria is not only an artist; more importantly she's a woman of her own making, and her message is something that today's stale, generic music world so desperately needs.