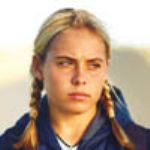 Dannielle Hall made her debut at a major international film festival with the role of the troubled Lena, in Ivan Sen's debut feature Beneath Clouds. Not only did the film win the Premiere First Movie Award at this year's prestigious Berlin Film Festival, but Dannielle walked away with the Piper Heidsieck New Talent Award for Best Young Actress.
Apart from a few school plays 18 year old Dannielle had never acted before in her life " certainly not in front of a camera. And until Ivan cast her alongside fellow newcomer Damian Pitt in his evocative road movie about two Aboriginal teenagers from the country meeting on their way to Sydney, it had never occurred to her that she might become an actor.
"When we started shooting I remember thinking to myself, "˜I can't be that good,'" said Dannielle. "But when your film goes to Berlin and wins an award there, you think "˜Hey, I must be good if they think I'm good!'"
Dannielle isn't just good, she's excellent, as is Damian in this lean and elemental tale of two young protagonists " one light skinned, the other dark " who are really journeying back in time as they inch ever closer to the big smoke. Once she'd accommodated herself to the ever-present camera, Dannielle really enjoyed the filmmaking process.
She is particularly fond of her director. "Ivan's great. He knows what he wants and so comes straight to the point, but he's also very supportive. If you need a couple of minutes by yourself, fine, he'll just talk to you and help you out. He's really good to work with."
Ivan was introduced to Dannielle, who comes from the small town of Wee Waa in north-west New South Wales, through his uncle, who met her at a school social. The award-winning director went through the script with her and shot some video footage to see whether she had those qualities necessary to light up a screen. She did, and so he rang back and offered her the part.
"I remember waking up on the first day of the shoot and thinking, "˜I can't believe it's already here!'" she laughs, blue eyes sparkling. "I was still a bit iffy, but about halfway through that first day I thought to myself, "˜Oh, this is easy! Just don't worry about the camera.' I learnt to blank my mind, concentrate on my character and not worry about everyone looking at me."
In keeping with the terse, guarded nature of Lena and Vaughn, the dialogue in Beneath Clouds is minimal, which was exactly how Dannielle liked it. "Personally, I find it easier to act with facial expressions and body language than heaps of script work. That way you're actually doing something rather than just standing there talking!"
Overall, Dannielle enjoyed being on the six-week shoot, although the inclement weather (raining one minute, boiling hot the next) did get to her. "I was lonely at first, too. I missed hanging out with my friends. But after a while I got used to everybody and just blended in. It's good to have had the experience of being in front of a camera. I've overcome my fear of home videos now!"
Back in Wee Waa, the local paper ran a piece on the young actor's Berlin success and many of her friends and neighbours are now anxious to see the film. "I don't know if it will get a special screening in Wee Waa or not. We don't have a cinema " the nearest one is in Moree, which is an hour and a half away!"
Nominating Denzel Washington, Halle Berry, Russell Crowe and Nicole Kidman as her favourite actors, Dannielle can congratulate herself on having picked up an award at the same festival that awarded Berry a Best Actress gong for Monster's Ball.
Before being coaxed onto the big screen, Dannielle had wanted a career in hospitality. Now she's reconsidering her options. "I think I'd like to study acting and maybe get a bit of work experience," she muses. "Acting's funny. It's like your mind is somewhere else for six weeks. You're not really in your own body. Then it's over and you go back to being your normal self again, doing normal things " this is who I am, this is me, I'm not Lena. But she's still there in the back of my mind."