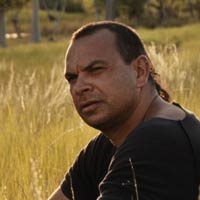 Released in cinemas this month, Mad Bastards is a hard-hitting account of Aboriginal life in the Kimberley country of Western Australia. The plot is based on real life experiences and accounts, as heard by the Pigram brothers and filmmaker Brendan Fletcher, collated into a uniquely organic movie-making process in which some of those who shared their stories also landed roles in the movie.
One such man is 40-year-old Dean Daley-Jones (right). He began work on the film as a grip (a person employed to carry equipment and move scenery), but then found himself contributing his own life's story as material for the plot and eventually wound up being cast to play the lead role.
In the film, Dean plays TJ, an urban drifter, who is tough, volatile and tortured by his past. After fleeing the city, TJ sets out on a 2000km journey north to the remote Kimberley town of Five Rivers to find 13-year-old Bullet, the son he has never met. Along the way, he locks horns with Bullet's grandfather and local policeman Tex, played by Greg Tait (who also did time and is now a police officer).
For Dean, the themes of redemption that play out in the movie are analogous and in many cases stem directly from his own life's journey.
"My mother was white and ran away from home when she was 15 years of age and was looked after by blackfellas on the outskirts of Perth," says Dean. "She loved Aboriginal people and saw the pain of their oppression. She taught me more about black people than anyone and taught me to walk tall."
"… to overcome my personal issues, the only way was to be honest, to overcome the denial – that's my greatest achievement"
Growing up in South Fremantle as the child of an Aboriginal father and white mother, the racial taunts Dean suffered during his childhood left a lasting mark. His father also passed away when he was young, and by the time he was in his twenties, Dean found himself heading down a destructive path, drifting in and out of jail for petty crimes, filled with anger and resentment. During filming, Dean would draw upon some painful memories to evoke raw emotions in scenes.
"I can remember people spitting at my mother because she was with a coloured man and I conjured up some of those bad, sad stories when I had to cry in the film," says Dean. "I didn't want to use eye drops. 'Just give me 10 minutes', I'd tell Brendan. It was the hardest job I have ever done in my life, psychologically."
Dean's initial interest in the film was sparked while attending the John Curtin College of the Arts in Fremantle. Other than a role when he was cast to play an Aboriginal teenager in the movie Shame, his first film job was in the art department, helping to construct sets for the movie Blackfellas.
"After two weeks in the art department I just stayed on set working in lighting and the grip department," he says. "That's what trained me up, it was my first time working on a feature film for the whole duration and was the beginning of my learning."
A move to Sydney followed where Dean began working at a special-effects workshop, building sets and also working as a grip. At 24 he returned west, helping to shoot short films and documentaries for an Aboriginal film company in Perth.
"I was carrying battery packs, holding lights and cameras, interviewing – one of the films was on Aboriginal street kids in Northbridge in Perth," he explains, "interviewing people to present to Government, so we could try to get funding for an Aboriginal hostel and dry-out centre for street kids. The aim was to show the Government how it really was."
From there, Dean began travelling around Australia, meeting the mother of his son, and says that at the age of 27, he had a significant awakening after dealing with continued personal issues.
"I had these personal things going on inside and wasn't happy," he says. "I was in denial and angry at society, at Australia, angry at the way my people were treated. I started addressing all these issues towards Indigenous people and how we were treated, and I had a real negative and crazy way of dealing with that, which took me many years to overcome. Here I am today, very lucky to be where I am and to have been able to overcome that adversity and those personal demons."
Through his most troubled times, Dean says his supportive family and close friends were pillars of strength, including his Mad Bastards' co-star Ngaire Pigram, whom he first met in 2007.
"I was on the run from a lot of things and happened to meet Ngaire and she believed in me. She snapped me out of it, you know? 'You want to be a man? Well stop living in denial and address some things.' And I was lucky that I had a lot of support from people. Who wants to be in jail? Who wants to live a life without love? You have to love yourself and respect who you are to have other people respect you – and that's what it was about."
Finally, Dean reached a junction in his life where he had to either face his issues or face a future being locked up.
"I had the opportunity to go on traditional bail release and join the men's group where I got to talk about my issues with anger through therapy," he explains. "I lost my father when I was 10 years old, and that was a big thing that I had to open up about, and I'd played the victim a bit. Now, I'm accountable for my own actions and I'm an open book. For me to overcome my personal issues, the only way was to be honest, to overcome the denial – that's my greatest achievement."
With Mad Bastards hitting screens this month, Dean can now also list a feature-film leading role credit as another major achievement. Moreover, he considers the film another chapter in his own personal story of growth and redemption as a proud Noongar man.
"The main reason I got involved when I read the script was to be a rep for my people, so I could tell this story. If I can make a difference and be a role model to young men going through those issues, I'd say you have freedom to make your choices and redeem yourself. So I'm very proud and privileged to be involved and I'll never deviate from standing beside my people, and I can show that through this film."