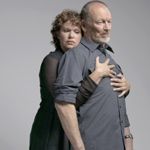 Deadly Vibe Issue 157 March 2010
Despite a hugely successful career in acting, directing and music, Leah Purcell remains humble and ready to learn more about her craft
Leah recently landed a role in the Bell Shakespeare production of King Lear .
"Acting in Shakespeare is like playing jazz – there are actual rules you need to follow to bring home the truth of how Shakespeare wrote it. The first week and a half of rehearsals I just felt really dumb and asked the director if she was sure she'd cast the right person … she told me to shut up," laughs Leah. "You have to learn how to interpret the words, so the audience picks up the meaning because the language in Shakespeare is sort of upside down and sideways."
Leah is playing the role of Regan opposite Shakespeare guru and founder of the Bell Shakespeare company, John Bell, who is playing King Lear. She says that while it has been daunting playing opposite such a legendary actor, it has also given her the best possible opportunity to learn the craft of Shakespearean acting.
"The rehearsals are my masterclass. I didn't go to uni, so it's on-the-job training, which is how I've always learnt everything. I could have bluffed my way through and pretended I knew everything, but I just went in there and said, 'I'm a sponge and I'm ready to soak it up.'"
"Once you're given the basics, it's quite empowering to say a verse of Shakespeare, deliver it right and have John Bell smiling and saying that's good. It's the best thing I've ever done, but I haven't been this mentally fatigued in a long time. It's awesome and it's like I'm going for a PHD: I've got my plain English dictionary and my Shakespeare dictionary and I'm really very 'edumacated.'"
Leah says that while she's loving learning, she's also often intimidated and downright scared about taking to the stage in the company of such veteran performers.
"It's scary acting opposite John and I dropped my load big time on the first day of the rehearsal when I realised how high the standard was, but now I'm caught up in that energy and I just want to say 'bring it'. Now after four weeks with John Bell and [actor and vocal coach] Peter Carroll I've learnt something new at 39 years of age. That's awesome and empowering. It's so great to be afraid and challenged and learning after 20 years of acting because one of my goals was to advance my acting and knowledge – performing Shakespeare does that."
While Leah understands Shakespeare can be a challenge for an actor she admits it can be a challenge for the audience, too. She says there are some tricks to knowing how to get the most out of your theatre experience.
"It is a bit of work if you're not Shakespeare-savvy, but I would encourage everyone to have a go at it or, better still, go and see the
Most people simply associate 'fancy' language with Shakespeare, but Leah says there's actually quite a lot of action, drama, intrigue and even the odd bit of biffo.
"King Lear is probably the best Shakespearean tragedy, but what I like about it is there's combat in it as well," she laughs. "I get to gouge someone's eyes out – which is fun as well. We have a great fight choreographer."
Every theatre company has a different approach to Shakespeare. Leah says the Bell Shakespeare's production promises to be a classic, minimalist rendition of the time-honoured tragedy.
"Every director has a different interpretation of what they want to portray. This production is Shakespeare done the classic way. The story is written so well that you just let the words tell the story – you don't want to mess with a masterpiece. We've got very minimal sets and very minimal props and that's the best way to do Shakespeare. I'm in the world of the 1600s at the moment, and that's what I love about acting – this wonderful element of play and fantasy. I get to talk differently and walk differently and the real world doesn't exist – it's the most rewarding thing."
Despite having mastered Shakespearean language for the play, Leah says she isn't tempted to use fancy words offstage and says it's nice to go back to being straight-talking Leah Purcell.
"Mate, I'm not uppity like that. After every show I'm straight back into my Murgon talk – the Shakespearean language serves its purpose, then it goes."
After 20 years of acting, Leah says the thing she is enjoying the most about performing Shakespeare is that she is finding renewed passion in her art.
"I've loved it – it's made acting new for me again and in any job, to find a newness and a passion after such a long time is fantastic. I feel so comfortable doing this, as scary as it is, as new as it is, it just feels right."
The Bell Shakespeare production of King Lear runs from 11 March to 26 June, with performances in the ACT, NSW, QLD, VIC and WA. For bookings, visit www.bellshakespeare.com.au or call (02) 9250 7777.