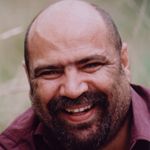 Richard Frankland's not afraid to speak his mind when it comes to Indigenous human rights, but his latest project promotes a quiet cultural revolution as the key to freedom.
Gunditjmara man Richard Frankland has been called many things: a Renaissance man, a musician, an activist, filmmaker, director, writer, deaths-in-custody investigator, soldier and fisherman. When Richard ponders how he'd like to be described, he says he's just an advocate for human rights and Indigenous human rights, in particular.
This year, he released his first feature film, Stone Bros, an Aboriginal comedy, starring Luke Carroll and Leon Burchill. Now he he's making another movie, currently called Silent Wars, which is about lateral violence in Indigenous communities.
Richard says we need to avoid lateral violence, which means not seeing the negatives, having the courage to say no to gossip and not putting people or organisations down unnecessarily. These types of lateral violence undermine the cultural safety of all our mobs. He says that Indigenous people have adopted many western ways of dealing with conflict due, to cultures having been torn apart and traditional ways lost.
He says culture is a living breathing entity that evolves and adapts but that it needs to be nurtured in order for it to flourish. We need to hail our heroes, the frontline workers in every community, the people who run our services.
Richard takes his work seriously. He's a prolific artist with a strong moral compass, striving for justice and striving for Indigenousempowerment through the arts. He has composed more than 70 original songs, written, produced and directed more than 50 films ortelevision programs, released four albums and a novel called Digger J. Jones: Holy Snappin' Duckpoo!, which follows the life of a 10-year-old Koorie boy in the months leading up to the 1967 Referendum.
Richard's play Conversations with the Dead was based on his experiences as an investigator in the Royal Commission into Aboriginal Deaths in Custody (RCIADIC) and his film Harry's War tells the story of his uncle, who was a serviceman in WWII on the Kokoda Trail.
Among other things, Frankland works for the Victorian Aboriginal Child Care Agency as a researcher, along with Dr Peter Lewis and a fellow researcher Robin Trotter. Together they are investigating ways to improve the lives of Indigenous Victorians. From the research to date, Frankland says it's clear that Indigenous people need more places of cultural safety.
Cultural safety means having spaces where Indigenous people feel spiritually, emotionally, mentally and physically safe being surrounded by their own culture. He says this includes people, ceremonies, language, traditions, land, music – all those things that encompass cultures and empower them.
"In our past, we had lots of cultural icons in our Dreaming, in our landscapes and our every day practice of language and culture, then all of a sudden we were denied access to that," says Richard. "For 200 years we were not allowed to speak our language or practise our culture. We were told that our culture wasn't good and that the dominant culture was good."
Richard would like to think that because of the work being done now, future generations won't have to think about the issues that Indigenous people currently face.
"Essentially when you've got art, you've got voice and you've got freedom, and with freedom you have responsibility," he says. "I try to be responsible for the freedom I have."