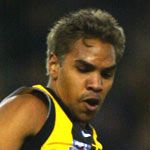 Deadly Vibe Issue 80 October 2003
A Krakouer of a year
At only 20, Andrew Krakouer has already overcome more pressure than most players will encounter in their whole careers.
Thanks to his last name (Andrew's father Jim Krakouer and uncle Phil Krakouer are AFL legends), the expectations on Andrew when he arrived at the Tigers in 2000 were enormous. And although he showed glimpses of brilliance and revealed some of his incredible potential, Richmond officials always spoke of Andrew as being a work in progress. They weren't prepared to rush the development of their most promising young star.
After stints in the VFL to develop his skills, this season marked the year Andrew went from prodigy to professional. Andrew had a break-out season for the Tigers, playing with increased consistency and poise, with his hard work rewarding him with a place in the regular senior team for the first time.
The highlight of Andrew's season came in a magical performance in Round Five against rivals Essendon. Playing in only his 19th game of AFL football, Andrew gathered 10 kicks, took two marks, had four handballs, made six tackles and finished with five brilliant goals, lifting the Tigers to a memorable victory against the odds over the Bombers.
For Tigers fans, already in love with the young superstar, Andrew's coming of age couldn't have come at a better time. As his progress continues, AFL fans will be watching to see what the next chapter holds for a legendary footballing name.
(Story 1/10/2003 end)
Deadly Vibe Issue 53 July 2001
He's young, gifted and has a big future ahead of him. Deadly Vibe profiles the Richmond Tigers' new secret weapon, Andrew Krakouer.
May 12 saw the well-placed Richmond Tigers take on last year's premiers, Essendon Bombers at the Melbourne Cricket Ground (MCG). Although it was only round seven of the AFL season, the game was being hyped as one of the encounters of 2001.
For a start, it was a must-win situation for the Tigers if they were to retain a top five placing on the competition ladder. And with most of the 77,000 screaming fans barracking for the black and yellow, home team Tigers knew they had to deliver the goods.
However there was one young Tiger who was drawing more attention than most, even before the whistle had blown.
His name? Andrew Krakouer, son of football legend Jim Krakouer. The fresh-faced 18 year old was gearing up to play what must have felt like the game of his life. Not only was his team taking on last season's premiers, he was also facing his boyhood idol, the unstoppable Michael Long.
As a build up to his debut game, Andrew was invited to have lunch with Richmond great Maurice Rioli, from whom he received some handy advice. (Andrew would later play opposite Maurice's nephew Dean.)
"I didn't know at the time if I was definitely going to play, but Maurice told me if I got the chance, just go out there and do my best," recalls Andrew. "We had a great lunch at a café in Richmond, and I learnt lots about him."
In the countdown to the big game, Krakouer's name was on everybody's lips. The Melbourne press had a field day, predicting all manner of things from the great Jim's offspring. But for Andrew, he was just happy to be finally making his childhood dream a reality.
Richmond originally intended for Krakouer (the Tigers' 41st draft pick) to spend the year playing with Victorian Football League (VFL) club Coburg. He would develop his skills, and then they would ease him into the AFL over the next couple of seasons. But Andrew had other plans.
Despite only playing five games for Coburg last season, Andrew was in superb form in his last game for the club, single-handedly destroying one of the strongest clubs in the VFL, the Murray Roos.
Put quite simply, Andrew shone, showing tremendous ball skills and even kicking two magical goals. In the end he left selectors with little choice but to include the young star in this year's squad. And thanks to an injured knee from Matthew Rogers, Andrew stepped into the limelight less than halfway through the season.
"Running out onto the ground and seeing so many screaming fans was simply unbelievable," grins Andrew. "I had never played in front of a crowd of that capacity. It was a game that I'll never forget."
Despite sitting on the bench for the first quarter, Andrew showed no 'first game' nerves when he got his hands on the ball in the second quarter.
Adapting quickly, Andrew gave his sluggish teammates a hint of hope before the halftime break. Infiltrating the Bombers' defence in the 31st minute, he scored, bringing the difference back to 35 points.
Halftime saw a big rev up from Tigers coach Danny Frawley, inspiring young Krakouer to really let loose. Although heavily marked in the second half by two defenders, Andrew still managed to kick another goal late in the game, reminiscent of his father's trademark.
While the Tigers went down to the Bombers 16.24 (120) to 10.14 (74), yellow and black fans left the MCG with a small glimpse of things to come from their new star.
Richmond Tigers' Player Development Manager, Dale Weightman, is confident that Andrew will deliver.
"He's a young kid who got it all before him," says Weightman. "With his surname he's sure going to have a lot more pressure put on him, but he handles himself pretty well. Although he hasn't had a huge amount of possession on the field, what he's done so far has been simply magnificent."
Andrew admits he was a little disappointed to be walking away without a win in his first AFL game. However, he was happy to go out as his team's leading goal kicker.
"I didn't even know it until the next day, when one of the boys mentioned it to me," he laughs. "But I admit, it felt pretty good."
Andrew's father Jim is a real legend of the game, with a career spanning 14 years from 1977 to 1991. Both Jim and brother Phil revolutionised the game during the 1980s and are regarded as two of North Melbourne's all-time greats. Jim played an amazing 134 games for North Melbourne and 13 games for St Kilda, and kicked 236 goals. Phil, meanwhile, played 141 for North Melbourne, seven for Footscray and kicked 231 goals.
While Andrew still has a long way to go to match the likes of his father and uncle, he sure has started off on the right foot. And that's thanks in no small part to his father's influence.
"We would often head down to the park for a kick of the footy and he would show me a few things about my game when I was growing up," says Andrew. "He told me before the game to just give it all I had, and everything would be alright."
Andrew is surely following his father's advice and the Richmond Tigers are a better team for it.
Deadly Vibe wishes Andrew the best of luck as he continues to shine.
(Story 1/07/2001 end)