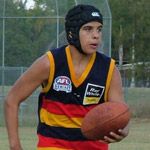 Deadly Vibe Issue 102 August 2005
Only the Beginning
At just 15 years of age, this young fella is already on his way to AFL glory.
With more young Aboriginal players breaking though to the AFL every year, it's quite obvious that the level of Indigenous talent in the national sport is only going to keep growing.
The wealth of Indigenous talent in the AFL has typically come from those AFL-mad states such as Victoria, the Northern Territory and Western Australian. But now it seems that it may only be a matter of time before a young fella from Brisbane or Sydney becomes the AFL's next black superstar.
Over the years the AFL has devised various programs aimed at tapping into the young talent of the country in order to help unearth and guide tomorrow's superstars.
One such program is the AFL Academic Scholarship, and recently 21 top young players across New South Walers were awarded this great opportunity.
The scholarships provide the state's most talented young players with the opportunity to develop their skills under the guidance of some of the sport's leading educators.
Out of the 21 selected, 15-year-old Daen Lomas " a Year 10 student from western Sydney " was the sole Indigenous player. Daen has been playing Australian Rules since the age of 10, despite the fact that most of his family are into rugby league.
With such a great start, it's likely that in a few years' time this young talent will be joining the ranks of the many other deadly Indigenous champions in the AFL
(Story 1/8/2005 end)