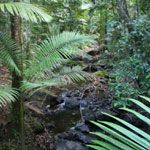 Almost 182,000 hectares of land on Cape York has been handed back to its traditional owners, creating a new national park in the process.
The KULLA (McIlwraith Range) National Park is about the size of Fraser Island, and will be jointly managed by the state and Indigenous people.
KULLA is an acronym for the Kaanju, Umpila, Lamalama and the Ayapathu people, the four clan groups with historical connection to the area.
Speaking at the handover ceremony at Coen, Premier Anna Bligh said the decision came after years of negotiations.
"Today marks the end of 30 years of work to see this rainforest preserved as a national park," Ms Bligh told reporters.
The new national park now becomes the largest undisturbed tropical rainforest area in Australia and the home to 16 plant species found nowhere else.
The Wilderness Society's executive director Alec Marr said the Indigenous peoples had sought the return of their land for many years.
"Today represents a huge gain for the future of conservation on Cape York peninsula and for land justice in Queensland," Mr Marr said.
The Australian Conservation Foundation executive director Don Henry also welcomed the move.
"We commend the traditional owners for their vision, determination and generosity in leasing back their land as a national park," Mr Henry said.