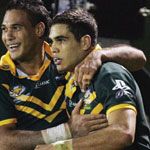 Green and Gold Glory
Deadly Vibe Issue 117, November 2006
They're two of Australian football's most promising young stars – Johnathan Thurston and Greg Inglis excelled in Australia's 30-18 victory over New Zealand in the first match of the Tri-Nations series.
It's har d t o believe, but just two short years ago Greg Inglis was making his NRL first grade debut for the Melbourne Storm. Jump forwar d t o October 12, 2006, and Greg was playing in his first international match for Australia.
Such has been the remarkabe rise of the talented young star from Kempsey that even Mal Meninga has publicly state d t hat he belives Greg will one day eclipse his record of most games played for Australia.
Not suprisingly, Greg scored on debut and was only denied another by an inncorect refereeing decision after a spectacular 50 metre bolt to the try line.
In the dying stages of the match, Greg took a difficult pass from Mark Gasnier above his head and held it in his left hand as he snuck over with about a centimetre to spare between the sideline an d t he corner post.
"I don't know how I score d t hat try, that's all I can say," Greg said after the match.
While Greg provide d t he highlights in the backline, it was Johnathan Thurston playing in only his third match since July who orchestreted Australia's win from the halfs, scoring five goals and and keeping the Roos in control throughout the game in a man-of-the-match-winning performance.
With Andrew Johns now retired from international football, Johnathan's performace takes him even closer to making the Test No. 7 his own.