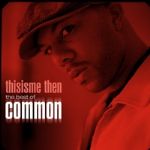 16 years after battling his way out of Chicago's hip hop underground, Common is regarded as one of the pre-eminent MC's and lyricists in the game today.
He first introduced himself to the word as Common Sense with his first single "Take It EZ" where he schooled up-and-coming rappers on the hip hop game. Since then his style has taken on many incarnations, from a street orientated, fast rapping trash-talker to an insightful and mature master of rhyme.
His first two albums, "Can I Borrow a Dollar" and "Resurrection" were snapshots of a b-boy coming of age.
1998's "One Day It'll All Make Sense" introduced Common to the burgeoning neo-soul scene of the time, teaming up with well-known artists of the genre Erykah Badu, Lauryn Hill and Cee-lo.
The birth of this daughter at the time became a life changing experience that reverberated through the albums tone and lyrics, resulting in the Lauryn Hill collaboration "Retrospect for Life" a male slant on abortion which became an instant classic.
His follow up, "Like Water For Chocolate" released in 2000 to mass critical acclaim was produced by the Root's own Questlove and legendary beat maestro Jay Dee. Exploring themes unusual for a hip hop record, the album was his first major commercial success and solidified his position as a torch-bearer for next generation soul-infused hip hop.
Common's penchant for musical experimentation laid the foundations for 2002's "Electric Circus", an eclectic mishmash of styles and influences which earned him four Grammy nominations. While many critics praised it as a musical tour de force and a visionary expansion of the hip hop template, others including some long time fans criticised it for veering too far from accessibility. Common has himself stated that it was his intention at the time to make an atypical hip hop record.
After making a guest appeace on Kanye West's 2004 release "˜Graduation Day", Common signed to West's GOOD Music label and the pair worked together on his next release, 2005's "Be". The album went gold, recieving four grammy nomaintions and paved the way for another comercially successfull coalbaiton "Finding Forever" released in 2007. Speaking at a free concert in California, Common explained to the audience that the title "Finding Forever" represented his quest to find an eternal place in hip-hop and also his wishes to be an artist for the rest of his life.
Having tapped the mainstream masses with his unique style and sound, Common turned his attention to the big screen and made his film debut in 2007's "Smokin' Aces" and also appeared alongside Denzel Washington in "American Gangster".
Common's latest offering, "This Was Me Then", released last month provides a retrospective glance back over his musical career, picking out a selection of defining tracks tracing all the way back to his first release.
A favourite amongst hard core hip hop heads and lyrical enthusiasts, and regarded as one of the very few innovators remaining in hip hop, Common continues to produce music for the street's, heart and mind.