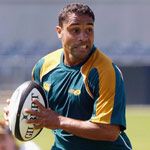 Deadly Vibe Issue 110 April 2006
The Italian Job
Brendan Williams' inclusion in the Australian Commonwealth Games Rugby Sevens side capped a rocky football journey that has taken him around the world.
While Brendan Williams may have grown up on "The Block" in Redfern and has faced many setbacks, his talent has seen him succeed in a place that couldn't be any further from his humble beginnings.
The Brendan Williams story is not the typical rags to riches football journey you often read about. Despite having all the talent in the world, Brendan hasn't had an easy ride – instead, his career has been a tumultuous affair punctuated with some deep lows and incredible highs.
After playing school-boy rugby for Australia, Brendan was named Rookie of the Year while playing first grade with Randwick in 1998. In the same year he represented Australia at the Kuala Lumpur Commonwealth Games and in 2001, signed with then Super 12s side The Waratahs.
It was here that Brendan's rise to the top began to take a turn for the worse, despite the fact he was one of the clubs stand-out players.
In 2001, Brendan was released from his contract with the Waratahs after missing several training sessions. He soon hit rock bottom, going through a painful relationship breakdown while battling a drinking problem. Just when it seemed as though his once promising career was over, Brendan found his salvation thousands of miles away in Italy, where he set about resurrecting his career and getting his life back on track.
Making the move to a new country and a completely different culture has proved to be a life-changing experience for the naturally-gifted 27-year-old, who lives in Italy with his fiancée Natalie, who is now expecting the couple's first child. His time abroad has seen him mature considerably as a person, growing far more independent and confident. This change was also evident in his football, and on the field he began to reproduce some of his old magic.
In fact, Brendan has been so successful in Italy that he has been named Italian Player of the Year for the past two seasons while also remaining the Italian league's most potent attacking player, topping the try scoring tally for the past three years.
However, the icing on the cake for this remarkable turnaround was the call from Australian Rugby Sevens coach Glen Ella in the lead up to this year's Commonwealth Games. Glen had been watching Brendan's performance, and wanted him for the Australian side.
Brendan's inclusion in the squad was seen as somewhat of a shock selection, but for those familiar with his game and in touch with his exploits in Italy, it was a natural decision. Possessing plenty of attacking flair, Brendan was recruited by Glen thanks to his unmatched ability to turn a game on its head with a single piece of individual brilliance.
Competing in his second Commonwealth Games last month, Brendan joined an Australian Sevens team which included big name players such as Chris Latham and Lote Tuqiri. The two-day tournament proved to be a massive hit with the sports-mad Victorian crowd, with 130,000 people packing out the Telstra Dome over the tournament to watch the action.
Despite the fact the Australians were unable to finish with a medal, winning only three of their six matches and losing the bronze medal playoff against Fiji, Brendan was amongst the team's top performing players, electrifying the crowd every time he touched the ball, and amazing all with his pace and nifty footwork.
Whether Brendan may now make a return to Super 14 competition on the back of his exposure at the Games is yet to be seen, but one thing for certain is that the experience of playing in front of so many proud Australian fans last month was a just reward for his hard work in recent years, as well as the perfect stage for his return to home to Australian rugby.
(story 1/4/2006 end)
Brendan Williams is regarded as one of the hottest rugby union players to hit the scene in recent years.
He first came to stardom as a regular first grade player for Randwick in 1998, playing so good he was awarded The Daily Telegraph Rookie of the Year award.
Brendan recently returned to the Randwick Rugby Club, after playing a season with the Padova Rugby Club in Italy, where he scored a remarkable 35 tries in just 24 games, breaking the previous tryscoring record.
Having played rugby in all parts of the world, Brendan was a member of the Australian Sevens team that competed in the 1998 Commonwealth Games in Kuala Lumpur, earning him a bronze medal.
We look forward to seeing Brendan continue his rugby career over the next few years, as he is contracted to play with the NSW Waratahs in the World Super 12s competition for the 2001 season.
Name:
Brendan Williams
Nickname:
Dingo
Date of Birth:
21 May 1978
Club:
Randwick Rugby Club
Position:
Fullback/Winger
Occupation:
Trainee sport program manager
Sporting Acheivements:
1995 Lloyd McDermott Australian Aboriginal Team
1995 Australian Schoolboys
1995 Randwick Rugby Club first grade
1995 Australian Under 21s
NSW Waratahs
Australian Sevens
Commonwealth Games bronze medallist
ACT Brumbies
Randwick Rugby Club first grade
Padova Rugby Club, Italy
Australian Under 21s
ACT Brumbies
Australian Sevens
Australian Barbarians
Randwick Rugby Club first grade