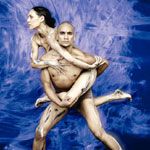 Tales of Time and Healing
Two of Bangarra's best share their stories with Australia.
Bangarra Dance Theatre kick-starts its 2007 season this month with a brand new double bill – True Stories.
Acclaimed choreographer Frances Rings and dancer-turned-choreographer Elma Kris, together with the dancers of Australia's most exciting contemporary dance company, share their true stories with Australian audiences for the first time, at a world premiere performance on May 17.
Choreographer Frances Rings presents the world premiere of X300.
"Essentially the work is about healing," Frances says. "It's a journey back to country – a chance to rejuvenate and heal old wounds."
Some 50 years ago at the edge of the Great Victoria Desert, in Maralinga, Southern Australia, Britain and Australia conducted nuclear experiments for more than a decade. The test site was code-named X300.
South Australian-born Frances, having been in contact with displaced families that were relocated to Maralinga, has created a powerful interpretation of the stories of desolation of the land and its people.
In X300, Frances "re-creates the deadly silent black mist that rolled along the ground when the blasts occurred and explores the blindness that affected so many".
In addition to her performance and film and television pursuits, Frances has choreographed several award-winning works for Bangarra including Rations, Bush and Unaipon, all of which were performed to critical acclaim.
Dancer and choreographer Elma Kris has created a beautiful new work in her choreographic debut with Bangarra, entitled Emeret Lu, meaning "very old things".
In October last year, Elma travelled to Murray Island to ask permission from the Indigenous elders to share the island's traditional songs and stories through dance.
"Murray Island is very traditional," Elma says. "Their customs, stories, arts and ceremonial dancing have been carefully handed down through the generations."
Including a special guest appearance by Murray Island descendant Smilar Sinak, Emeret Lu is a brilliant collection of traditional and contemporary dance – a celebration of rain, wind, hunting and the little-known Torres Strait Island culture.
Elma was raised on Thursday Island in the Torres Strait, and has performed in many of Bangarra's acclaimed productions, including Unaipon, Boomerang and last year's celebrated UK tour of Bush.
True Stories commences its national tour in Melbourne from May 17 to 26 at the Arts Centre. From there the tour travels to:
Brisbane: June 7-16, Queensland Performing Arts Centre
Wollongong: June 21-23, Illawarra Performing Arts Centre
Canberra: June 28-30, Canberra Theatre Centre
Newcastle: July 20-21, Civic Theatre
Sydney: Aug 3- Sept 1, Sydney Opera House