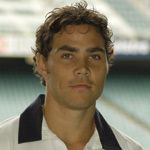 Deadly Vibe Issue 98 April 2005
State of the Union
Arthur Little is shaping up to be one of the big names of 2005. Will he make it to the Wallabies? Only time will tell.
Rugby Union boasts a proud history of Indigenous champions, from the remarkable Ella brothers to Lloyd McDermott, Lloyd Walker and Wendell Sailor. Now Arthur looks set to be the next name in this proud line of Indigenous achievement.
Last year Arthur enjoyed a glorious season with Randwick, who dominated the NSW rugby union competition throughout the season, finally defeating Eastwood to win the Grand Final at Aussie Stadium.
"Winning the Grand Final was awesome," says Arthur. "It was especially sweet since we lost to Eastwood the year before " losing a Grand Final is not a good feeling.
"So it was great to beat them this year."
Arthur has now moved on from the Galloping Greens to join head coach and former union great Gary Ella at Parramatta.
"I didn't really want to leave the "˜Wicks, and there's no doubt I miss them, but there were a few reasons behind my move," says Arthur. "And it's great to have Gary as a coach. I'm really close with the Ellas " I go over to their place at least once a week for a barbie, and they give me lots of feedback on my game."
Last year Arthur scored his first cap for the Waratahs and also represented Australia at the IRB Sevens tournament. Just as he had always done on the field with the Greens, Arthur impressed players and spectators alike with his skills as a try-scorer and his ability to break through the opposition's back-line.
"I think my strength lies in my attacking ability," Arthur says. "But my main weakness is my size " there are some really big guys in this game."
This year Arthur will be playing in the Waratah's reserve grade, although he hopes that he will get a start with the "˜Tahs sometime during the season.
"I'm the second string fullback after Matty Rogers, so unless he gets injured or something I might not get a start," says Arthur.
However, NSW coaches keep an eye on all the games, and if Arthur keeps up his form he may get a call-up. And then there is also the new team from Perth.
"A lot of players are going over to Perth," says Arthur. "I wouldn't mind playing with Perth at all."
But beyond the Super 12s, there could be something even bigger on the horizon for Arthur Little.
"I would love to play for Australia," says Arthur. "Hopefully that's not too far around the corner."
(story 1/4/2005 end)