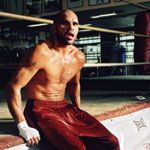 Back on Top
Three year after losing his title, Anthony Mundine has silenced his detractors once again to reclaim his standing as Super Middleweight champion of the world. In the wake of his victory, Deadly Vibe spoke to Australia's most successful boxing trainer, Johnny Lewis, about The Man's quest to take on the world's best.
When Anthony Mundine first quit rugby league and announced his intension of becoming a world champion boxer, most people said he was crazy.
Seven years later and not only has Anthony achieved exactly what he set out to do, but he has done it twice.
After first winning the WBA Super Middleweight title back in 2003, Anthony had only once successful defence before losing the belt in a points decision to Puerto Rican boxer Manny Siaca.
In his quest to reclaim his lost championship, Anthony won three successive fights before earning himself another shot, the third of his career; this time against Danish fighter and world champion Mikkel Kessler. But Anthony was once again beaten on points.
But this defeat only served as further inspiration, adding to Anthony's determination to once again be crowned world champion. And, after stringing together four straight victories, which included a demolition of former middleweight interim champ Danny Green, Anthony overcome several niggling injures and the grief of losing some close family members to again earn a shot at the title.
This time around, Anthony was pitted against fellow Australian Sam Soliman for the vacant WBA super middleweight title.
Making the fight even more interesting was the fact that two fighters had met in the ring once before, back in 2001.
With only eight fights to his name at the time, Anthony was still very much on his boxing training wheels when he faced Soliman in their first fight. While Anthony won the early rounds, Sam finished the fight strongly, making the bout a real contest which Anthony ultimately won on points.
Just how much Anthony has improved since then was put on display for all to see in the rematch, and his ninth round knockout victory could not have been more resounding.
Known for his unorthodox and spoiling style, as well as his great fitness and endurance, Sam Soliman had never before in his 41 bout career been knocked down – a record which came to an end in the second round of the fight when Anthony landed a crushing right hand that sent Soliman crashing to the canvas. From there the fight was all Mundine, with Sam tasting the canvas a few more times before the referee brought the bout to a halt in the ninth round.
In what was arguably the most impressive display of his career thus far, Anthony proved to many that he is not just a great fighter; he is a world class fighter who is well and truly ready to take on the world's best.
Someone who was impressed as ever with Anthony's latest performance was legendary trainer Johnny Lewis. Johnny has trained world champions Jeff Fenech, Jeff Harding, Virgil Hill, Kostya Tszyu and Gary St Claire, and believes that Anthony is ready to stake his place as, pound for pound, one of the elite boxers in the world.
"I've seen so many of the good Australian boxers spar and fight Sam, including the likes of Paul Briggs and Kostya Tszyu, and they all have problems with him," Johnny says. "So the way that Anthony virtually dismantled Sam was very impressive.I think that great display came from the fact that Anthony is now a very confident fighter. The way he methodically went about his job, it was one of the best performances I've seen.
"There were times there when I didn't know whether Anthony really wanted it or whether he would sort of just get away with it with his natural ability, but he's shown in his last few fights just how professional he is."
While Anthony is now finally earning some much overdue credit and respect from former critics within and outside the boxing community as well the Australian sporting public at large, Johnny belives that Anthony is still far from his best and can become an even greater fighter.
"That's the scary part," Johnny admits. "I still think he's got a lot more improvement to back up all the natural attributes that he possesses. His speed, his balance, his terrific hand and foot and hand and eye coordination – I think God gave these abilities to his grandfather, who gave it to his dad, who gave it to him. But you still have to be disciplined and work with what you've got, and Anthony has certainly done that.
"I honestly do believe he is on the threshold of greatness. I think he can now go ahead and beat the really good fighters from middleweight up. It's mind boggling to think what he really can do."
After the fight, Anthony declared his intensions of going after the cream of world boxing, including the world's most highly rated Super Middleweight and WBO champion John Calzaghe, American Jermain Taylor who is considered the most destructive fighter in the Middlewight division and Ronaly "Winky" Wright who is considered among the top three three pound-for-pound fighters in the world. He is also eyeing possible rematches with current Super Middleweight super champion Mikkel Kessler and former foe Manny Siaca.
"I'd like to see him go to Middlewight and beat all the good Middleweights like Winky Wright, Oscar de la Hoya," Johnny says. "I'm sure he'd have a picnic with all of those guys and I think he can beat Kessler too."
Switching sports in his mid 20s and going on to win one world title is a remarkable achievment in itself, but Johnny believes that Anthony now has the opportunity to go on and become a multiple division champion, writing himself into the history books in the process.
"Anthony can take his place among some of our country's greatest sportspeople," Johnny says. "You know, a lot of people don't like to say it, but I can't think of anyone who could be his equivalent as far as being one of our greatest athletes. He was good at football, he was good at basketball, and he'd probably be good at tennis, or running or anything he set his mind to.
"If he stays on track and remains focussed, I think Anthony really can take his place alongside the real greats of Australian boxing. He's blessed with great ability and I think he's as good a puncher as there is out there. And along with his speed and power, I don't think there are too many fighters who will be able to hack it with him."
Now 31, Anthony now plans on a prolific turnover, with a fight every three months. He aims on becoming a three or four-time champion across the Middleweight divisions and unifying the title. It seems that as always, whether people love him or hate him, The Man truly demands and deserves our respect.