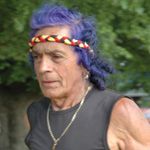 Deadly Vibe Issue 107 January 2005
Running Man
An inspiring elder runs the race of his life.
Albert (Alby) Clarke is 71 years old, and an Elder from the Gunditjmara Tribe in Warrnambool. He's also the first Aboriginal to compete in the Cliff Young Australian Six Day Race in Colac, Victoria.
The Cliff Young Australian Six Day Race is named in honour of former potato farmer Cliff Young who, in his sixties became an ultra-marathon legend. The race is run around Colac's Memorial Square, and runners strive to complete as many laps as they can in the six days of competition.
Held from 20th to 26th of November, this year's race was the 20th anniversary of the event.
"You've gotta be fit," says Alby. "And I'm fit. I thought it was easy!"
Alby, who is also believed to be the first Aboriginal to compete in an ultra-marathon race, has little running experience, but is an accomplished cyclist. Three years ago he cycled from Perth to Warrnambool to raise awareness for diabetes research and is also a twice finisher of the Melbourne to Warrnambool cycle race. He competed in the ultra-marathon as part of his training for a bike ride from Darwin to Adelaide that he is planning to undertake in the future. He also hopes to one day ride around Australia.
"I turned 71 two days after the Cliff Young Race," Alby says. "It just goes to show " it doesn't matter how old you are. Age has nothing to do with it."
This extraordinary man also suffers from type 2 diabetes, which he keeps under control through his healthy lifestyle. He uses his sporting achievements to raise awareness of the illness, and to inspire other Indigenous Australians.
"If I can do it, anyone can," he says.
At the end of the six days, Alby completed 862 laps, covering 344.80 kilometres.
(Story 1/1/2006 end)