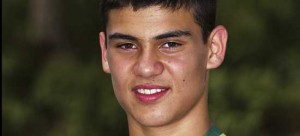 Aboriginal student James Gallaugher from Ulladulla Primary School can run 100m only two seconds outside of Olympic gold medallist Usain Bolt's record. James is the fastest 12-year-old in the country and he already has his sights set on becoming a major Australian athlete – right now, he's taking it all in his stride.
James is a 100m and 200m sprinter from Ulladulla and he also has links to the Gumulkbun tribe in North West Arnhem Land. James' astounding personal best for running the 100m is 11.72 seconds. He has also run 200m in 23.76 seconds.
Last year, James broke his school's 100m and 200m records, as well as the regional 100m and 200m records and the South Coast PSSA 100m and 200m records. Then he won the Australian All Schools Under 12s 100m and 200m – making him the fastest 12-year-old in Australia.
His 100m run in 11.72 seconds is faster than any time recorded for his age group in the US or in Australia. This result attracted the interest of talent scouts with the Michael Johnson Performance Spire Institute, who made contact with him and offered him a place at the Institute in the US for a four-week training camp in July.
James' proud mother Samara says that compared to other kids in his age range, James would be in the top three in the world for his times.
"James will also be attending the Western Australian Institute of Sport next year and he has been asked to be an Ambassador for the Matt McArthur Bright Youth Foundation. I hope James' story inspires other kids to achieve their dreams. That said, I am also just trying to keep him grounded about all of this."
But why is this young man so fast? James reckons it comes from his family, saying that his mother played touch football at national level and his father was a fast sprinter.
"Mum went to the nationals for touch footy and dad was a fast runner," he says.
James' personal best times are amazing, considering the record for the 100m, held by the fastest man in the world, Usain Bolt, stands at 9.58 seconds. James is only about two seconds outside that and he is only 12!
James reckons being the fastest 12-year-old in Australia is "pretty cool." He says he loves athletics and is looking forward to going to the US later this year.
"I'm going over there in July for four weeks. It's in Ohio. This will be my first time overseas, so I am pretty excited about that," he says.
Prior to this trip James was also selected to attend the Western Australian Institute of Sport (WAIS).
James says one of his long-term goals is to run for his country.
"I want to keep running. I hope to run for Australia someday at the Olympics. I just hope to keep getting faster and faster," he says.
"I have a personal coach, Scott Richardson, and my step dad Mick helps, too. We train every second day. Each session is varied. We do sprints and jumping and working on technique to build up strength and conditioning."
James' coach, Scott Richardson, told the Herald Sun last year that James is a genuine talent.
"He is a freak and I mean that in the very best way," Richardson told the Herald Sun. "When I talk about him with my wife and my family, we just say he is going to be the greatest sprinter we have ever had if he keeps improving at the rate that he is.
"If he increases his speed on what he is running now, which is 11.7 seconds for electronic, he is going to be running 10.9 seconds in the not-too-distant future, which is incredible for someone his age."
Scott should know what he is talking about, having won the national age-championships three-times himself, as well as a Pan Pacific Games Gold Medal.
James, who is in Year Seven this year, says his other interests include rugby league – a sport he has also represented NSW in. He helped Ulladulla win the state primary schools' titles in league and touch football last year, and NRL talent scouts are also keeping an eye on him for the future.
"I play men's touch footy as well. I would like to continue to play Rugby League, as well as athletics. I play centre and lock and I played wing for NSW," he says.
Apart from his natural talent at running, James is a normal kid who enjoys being with his friends and swimming.
"I just enjoy hanging out with my friends most of the time. We go to the pool. Ulladulla is an awesome place to live because there are good beaches here, too," he says.
To watch James winning the Senior Boys' 4x100m relay at the NSW PSSA Athletic Championships on 19 October last year, watch this link: www.youtube.com/watch?v=K6oZI8L59Nw