This hearty meatloaf will fill up the whole family.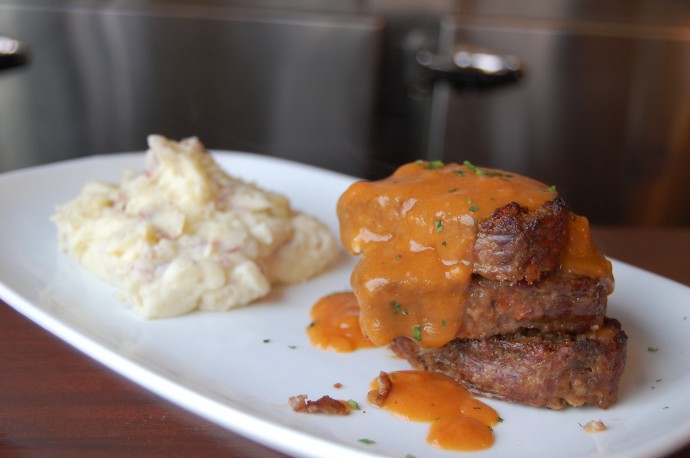 Ingredients
Margarine spread* for brushing ovenproof dish
1 cup Lowan Quick Oats*
2-4 chopped garlic cloves
1 cup chopped carrot
1 cup chopped zucchini
1 cup chopped brown onion
500g lean beef mince*
2 tbs dried Italian herbs
2 tbs raw pine nuts*
1 egg*, lightly beaten
1 tbs reduced salt soy sauce
2 tbs no added salt tomato paste
2 Roma tomatoes, sliced
Rocket, to serve
Method
1. Pre-heat oven to 180°C (160°C fan-forced) and brush a 24 x 12.5cm ovenproof dish with margarine spread and line base with baking paper.
2. Place oats, garlic, carrot, zucchini and onion in a large mixing bowl. Add mince, herbs, pine nuts, egg, soy sauce and 1 tablespoon tomato paste. Using clean hands mix until well combined.
3. Place mixture into prepared dish, press mixture down firmly.
4. Spread over the remaining tomato paste and arrange tomato slices on top.
5. Bake for 50 minutes or until when a skewer inserted in the centre comes out clean and the juices of the meatloaf are clear. Stand for a few minutes before transferring to a board.
6. Serve hot or cold in slices with a rocket, tomato and fresh herb salad – oregano, basil and flat leaf parsley.
Serves 4-6
Cooking time: 50 minutes
Tip: A medium sized carrot, zucchini and onion will each make approximately 1 cup of each chopped vegetable.
*Products available with the Heart Foundation Tick. Remember all fresh fruit and vegetables automatically qualify for the Tick.
Recipe and image reproduced with permission. © 2014 National Heart Foundation of Australia. For other healthier recipe ideas, visit www.heartfoundation.org.au/recipes or phone 1300 36 27 87.