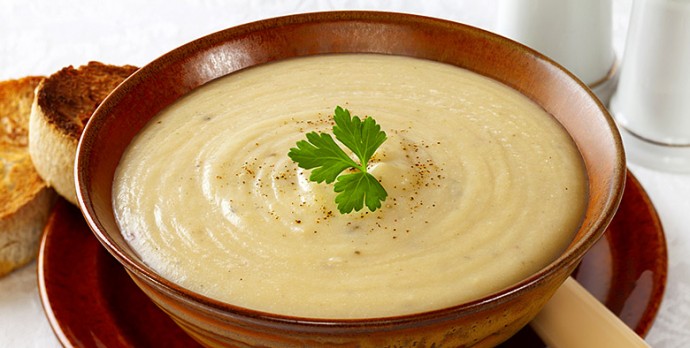 With winter fast approaching, so too is soup season. Here's a nutritious and simple recipe you can try at home. One of the main ingredients is the vegetable, leek. Leeks contain many noteworthy flavonoid anti-oxidants, minerals, and vitamins that have proven health benefits. And they're low in calories.
Ingredients
1tbsp oil
4 rashers bacon, diced
2tbsp butter
3 leeks, white part only, halved and thinly sliced
1 garlic clove finely chopped
13 medium potatoes, cut into 2 cm cubes
4 cups chicken or vegetable stock
1x 375ml can light evaporated milk
Chives to garnish
Method
1. Fry bacon in oil over medium heat until cooked and put aside in a bowl.
2. In the same pan, melt butter and add leeks and garlic. Cook until leeks are soft and transparent.
3. Add potatoes and fry for 3 minutes.
4. Add stock, bring to the simmer and cook until potato is soft.
5. Return bacon to pan and blend with stick blender.
6. Add evaporated milk and simmer for 5 minutes.
7. Serve garnished with chopped fresh chives or herb of choice.
Note: If you prefer a thicker soup, add less evaporated milk.