Chickpeas are an excellent source of protein and rich in both soluble and insoluble dietary fibre. They're also high in iron and the mineral manganese – all good reasons to give this healthy stew a go on the weekend.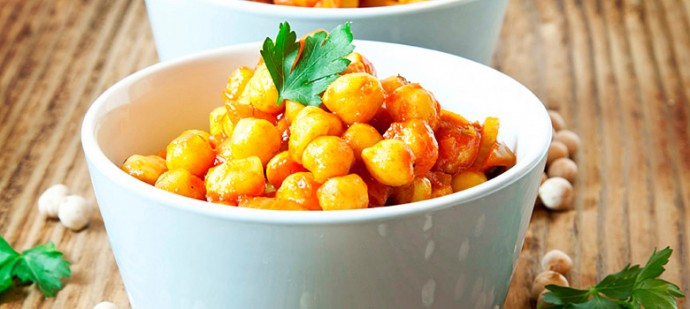 Ingredients:
2 tablespoons Olive Oil
1 red onion, finely chopped
1 large carrot, diced
1 cup sweet potato, diced
2 garlic cloves, finely chopped
2 tbsp ginger, freshly grated
1 tsp dried chilli flakes
2x 425g cans chickpeas, drained
1 tbsp ground cumin
1 tbsp ground coriander
1 tbsp turmeric
250g tomatoes chopped
250g frozen spinach, thawed
Pinch sea salt and pepper
Yoghurt to serve
Method:
1. Heat oil in a large deep frying pan over a medium heat.
2. Add the onion, garlic, chilli and carrot.
3. Cook until vegies are soft.
4. Add ginger, cumin, coriander and turmeric.
5. Add the chickpeas with 1/4 cup water and cook until the water evaporates.
6. Add the tomatoes and cook until soft.
7. Stir through spinach and season to taste. Serve with dollop of yoghurt.